Cinema multiplexes are becoming a familiar site for Vietnamese people in urban areas but not so much in rural or suburban districts, as residents in these districts are thought not in favor of such luxury entertainment.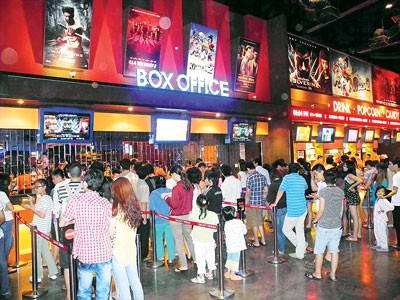 A crowd of viewers queuing to buy tickets in Galaxy Kinh Duong Vuong in District 6 (Photo: SGGP)
Hence it comes as a surprise to learn that Galaxy Kinh Duong Vuong in suburban District 6, a multiplex, is attracting crowds since it opened in July.

Cinema multiplexes are usually constructed in big cities like Hanoi, Ho Chi Minh City, Hai Phong, the central city of Da Nang, Bien Hoa City in the southern province of Dong Nai as these locales ensure crowds.

Expanding in suburbs

With craze to watching movies increasing, movie lovers in the suburbs flood into big cities on weekends.
During peak hours, MegaStar chain of multiplexes receives sometimes more than 10,000 viewers.

Cashing in on increased demand, MegaStar, Galaxy and BHD all plan to open new theaters on the outskirts.

Galaxy took the first initiative to build a theater on Kinh Duong Vuong Street in District 6 while others still remain reluctant. After reaping success, Galaxy intends to construct two more luxury theaters in Go Vap District in 2014.

Dinh Thanh Huong, Director of Galaxy Company, said they want to explore the market more, and expand in locations that are highly populated.

The success of Galaxy is now prompting MegaStar and BHD to open more theaters in provinces and the outskirts.

Old theaters in state of neglect

The local market is currently dominated by the private sector and their foreign partners who have set up a chain of movie theaters in the model of multiplexes.

Leading the rat race is MegaStar, followed by Galaxy and BHD. To ensure turnover, most multiplexes are built in big cities inside shopping malls. For instance, MegaStar set up one in Hung Vuong Plaza, Crescent Mall, C.T. Plaza, Mipec Tower; while BHD in MaxiMax, Bitextco; Galaxy in Nguyen Du Stadium in District 1, Co.opMart in Nguyen Trai Street.

A modern multiplex should have five to seven screens including 3D rooms with more than 200 seats in total and minimum height from floor to ceiling of 7-10 meters.

Due to popular demand, investors build new theaters or hire a premise in a popular shopping center. This has led to neglect of old theaters that are now being converted into discotheques, bars, or night clubs.