Every year ahead of the Tet festive season, several markets in Ho Chi Minh City begin to feature a variety of specialties and special dishes of various regions from across the country to attract a large number of consumers.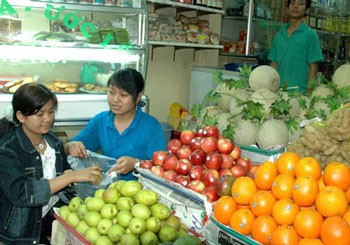 A grocery store on Tran Quoc Toan Street in District 3 selling dishes and fruits of the northern regions. (Photo: Sggp)
Kim Thanh grocery store at the corner of Pasteur and Nguyen Dinh Chieu Streets is a popular place for people living in the northern region to buy hung liu peanuts, tien vua vegetables, salted shredded meat, nem phung (pork hash wrapped in banana leaf), cha (grilled chopped meat), many kinds of salted fish (mam) and wines, Hung Yen's longan, Bac Giang's litchi, Tan Cuong tea, and many such dishes.
Additionally northern specialties can also be found at the Bac market on Chu Manh Trinh Street, Hanoi supermarket on Cong Quynh Street in District 1, groceries on Tran Quoc Toan and Nguyen Dinh Chieu Streets in District 3, Dien Bien Phu and Nguyen Xi Streets in Binh Thanh District, Pham Van Hai Street and the area near Tan Son Nhat Airport in Tan Binh District.
Ba Hoa market on Tran Mai Ninh Street in Tan Binh District is well-known for special dishes of the central regions, such as fresh and dried chili, Ly Son garlic, Quang Nam pepper, Se ginger, Ha Lam spring onion bulbs and various kinds of mam.
Countrymen from the region come to the market to enjoy a bowl of Quang noodle that is made of rice in different colors like yellow, black and white.
Kenh Te floating market in districts 4 and 7 is a wholesale market providing diversified fruits from Mekong Delta Provinces.
Traditional dishes of the southern region can also be found in supermarkets around the city.