Dispelling myths that modern young people are self-interested and indolent, many youth in Vietnam are taking action to study hard and better their communities.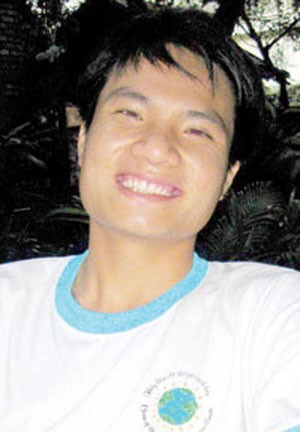 Nguyen Ba Minh (Photo: SGGP)
Nguyen Ba Minh from the Ho Chi Minh City College of Transport No. 3 was one of young people recently honored for outstanding achievements by the city Committee of the Ho Chi Minh Communist Youth Union.
Minh said his passion for youth union activities helped him to grow and become a better student. In addition, participating in the union helped his confidence and he can now make presentations and speak in front of large crowds.
Raised in the northern province of Bac Ninh where he helped farm and breed buffaloes, Minh once had no time for youth union activities. His parents worked in the south, which kept Minh busy at home most of the time.
It was only when he left to attend college in HCMC that Minh finally found the time to volunteer.
He is now very open-minded and active, while his friends say Minh is confident in delegating tasks to other group members and helps bring them together.
During the last "Green Summer Campaign" in Binh Chanh District, Minh's group designed and laid a 400-meter-long asphalt road for residents in Pham Van Hai Commune.
The youth union member has also come up with several innovative ideas including a "friendship fund" to help cash-strapped students.
In October 2008, Minh began calling on his classmates to donate funds for fellow students who needed financial help.
There are always a few class members who borrow tens to hundreds of thousands of dong each month.
The total capital in the fund is around VND1 million and Minh says it is always paid back by the students when they can afford it.
Other classes in the college have followed Minh's lead and established similar funds or their own.
Minh is also an outstanding student and achieved a score of 8.1 points in his last academic term.
More than one path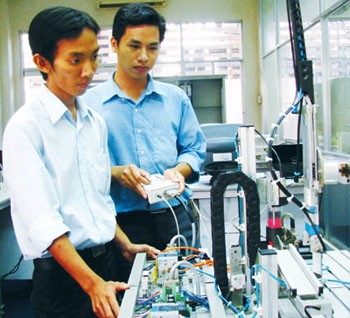 Le Minh Bang (L) and Nguyen Van Hoa (Photo: SGGP)
At Hung Vuong Technology Secondary School, two students were awarded the bronze medal at the 7th ASEAN Skills Competition last year for an autorotation system used in industrial production.
The medal-winners, Le Minh Bang, 24, and Nguyen Van Hoa, 21, were the first Vietnamese ever to participate in the event in the field of mechanics and electronics.
The students beat out a host of other college and university students for the chance to represent Vietnam in the international competition.
And despite their big win, Hoa and Bang did not have a strong academic background. Hoa initially failed his university entrance exam while Bang had long been working before deciding to begin his studies. The two met at the mechanics and electronics center of the vocational school.
The teacher in charge of the center, Pham Phu Tho, soon discovered the two students' aptitude and trained them to achieve top results in competitions nationwide.
After graduating from the Hung Vuong vocational school, Hoa and Bang were invited to work for several companies offering high salaries. However, they chose to continue studying at the electrical and electronic faculty of the HCMC University of Technical Education.
They are now enrolled in a university program and continuing to do research at the Hung Vuong school.
Bang and Hoa prove there are many paths open to youth who wish to achieve great things beyond the traditional linear route.