A club for child prodigies aged three or four years old who can read is open in Ho Chi Minh City. On the opening day, they played with psychology experts to test their special abilities.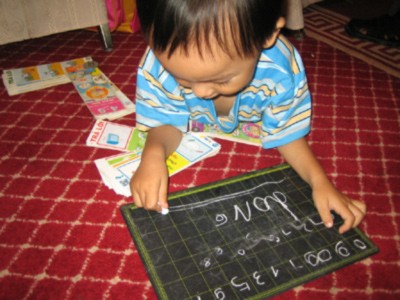 Three-year-old child, Long, writes his name and contact telephone number(Photo:Vietnamnet)
Vo Minh Tien, born on April 23, 2004 in district 4, looks vivacious and quick-witted. He can read and arrange words into his name and others'.

His reading ability was discovered when he began reading television advertisements correctly.

Another boy, Tran Trung Tin, 4, is interested in reading and talking to people around him. He read at the club, and even played games on laptops of the club's managers.
His mother said that she noticed her son's ability when he suddenly read the title of an article which she was reading.

Nguyen Hoang Anh Duy, 4, a boy from the southern province of Tay Ninh, also displayed his ability when he read an ad on television. This surprised his relatives, as he did not say a word until he was three years old. Duy had not had a day at pre-school.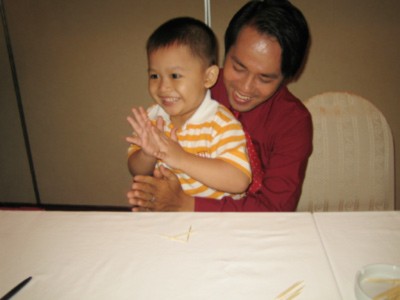 Minh Tien, 3, tells experts and people to praise him when he finishes arranging words into his name(Photo:Vietnamnet)
Tran Ngoc Chau Long, 3, from the southern province of Long An, can not only read but is good at mathematics as well.
When he was 18 months old, he could read; now he can perform complicated mathematical functions.
Moreover, he likes playing mathematical games; for instance, when adults put three oranges on a scale and nine in another scale, he found out how to make the scales balance.

According to Dr. Huynh Van Son, the club is in fact a place where child prodigies aged from 24 to 60 months receive education to help their special abilities develop. Parents will be instructed in educational techniques to better raise their children.

Psychology experts emphasized that parents should not push their children too hard or force them to learn by heart any long sentence to prove their ability. After all, gifted children are those who do not need any guidance from adults.