Lieu Van Do wakes up 5 a.m. daily to milk his seven cows. It takes seven to ten minutes to gather 10 kg of milk per cow where he sells to Evergrowth Co-operative.
The Co-operative works to relieve Khmer families in Soc Trang Province from poverty by providing dairy business clients.  Mr. Do's family was the first client of the company.  Now there are 30 family farms working with the Co-operative.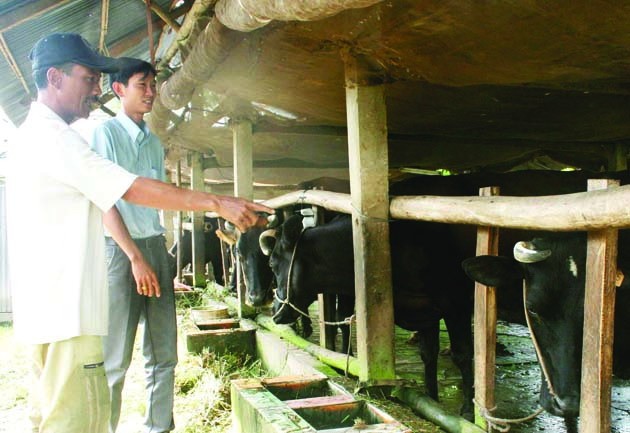 There are 30 family famrs working with the Evergrowth  Cooperative
"Ten years ago, we had nothing, but now we can be proud of saying that we have changed our life from dairy farming," said Mr. Do, 45. "Rice price is not stable, breeding dairy cattles is the best way to earn money."
A liter of milk will produce 12.5 VND/liter, same as a hectare of rice.  A cow will produce 12 liters per day.
After 10 years of business, Mr. Do's farm now has 34 dairy cows.  With the substantial income, he built a home worth VND 45 million and bought three motorbikes for his family.
The income of a dairy household can reach VND 45 to 48 million per month, said Director of Evergrowth Tran Hoang.  This means a family can earn VND 20 to 30 million for a year.
"The families strive to breed dairy cows.  I highly appreciate the efforts of the community and the unity in work ethics," said Nguyen Nam Thanh, Vice Director of Ministry of Agriculture and Rural Development of Soc Tang Province.
Evergrowth will celebrate its 10th anniversary this year.  The company now has 3,957 cows, eight times the amount they started with.  It has 1,692 employees, with 90 percent Khmer.  Milk production has skyrocketed from 150 kg per day to 16,000 kg per day. Profit has also increased from VND 500 million to VND 16 billion since the start of the company. 
The company been listed as top dairy cattle co-operative in the Mekong Delta by The people's Committee of Soc Trang. Because of this, Soc Trang is now famous for dairy in the Mekong Delta.
"Evergrowth is an outstanding co-operative and leader in breeding dairy cattle in the Soc Trang Province.  Its stability is due to a great breeding and care.  This is a great model for the future," said Le Thanh Tri, Vice Chairman of Soc Trang People's Committee.