Scaling treacherous waterfalls and hiking through dense jungle forests, a group of dedicated teachers makes their way to a remote northern-central community.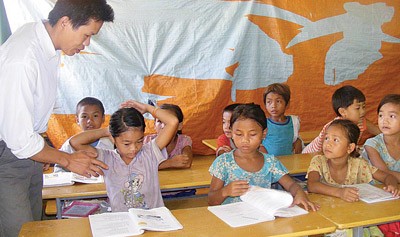 A class in forest
They are on a mission to the border areas of Tuong Duong District, Nghe An Province where the teachers live much of the year educating Mong, Kho Mu and Thai ethnic minority students.
The children attend school in Mai Son Commune, which borders Laos. The only way to reach the area is to trek through the mountains and forest, crossing several perilous rivers along the way.
Outsiders seldom visit the isolated area, and the locals only leave occasionally to get necessary supplies. Each teacher is here for a different reason, but everyone feels a strong connection to the local children.
Vieng Van Man volunteered to teach at the remote Mai Son junior high boarding school after he graduated from college. He says he loves his students, from the ethnic minority groups Mong and Kho Mu, and doesn't teach to earn money.
Of the 23 staff, Mr. Man has the shortest distance to travel home. It takes him two days to travel through the forest and across rivers. He then has to take a bus to his hometown of Tam Dinh Commune, Tuong Duong District. In the summer, he sometimes stays at school to tutor his students.
Of the three female teachers, just one is married. "I am luckier than the other two because I found my life-partner right at school," said Ms. Nguyen Thi Thap.
"It is difficult for other teachers to get married because we are separated from the world. We often joke that if other teachers want to find partners, they have to go to the lowlands and get married there," Ms. Thap said.
"But who dares to leave her partner and come back here after marriage?" she added.
At the beginning of the school year, a residential area was constructed so that students living far from Mai Son Commune did not need to use tents and could live near their teachers.
Thanks to the new area, teachers say it is easier for both the students and themselves. Those who live closer to the school must spend half a day traveling to and from home. They carry rice, corn and bamboo sprouts to eat for meals and the teachers often share their own food with the students.
The tight-knit community is grateful for the dedication of the teachers and the hope they bring. "Without teachers the children would not be educated to their full potential," said Mr. Lo Dai Duyen, party secretary of Mai Son commune.
"Thanks to them, our children can go to university. It brings us great happiness," he added.