"Despite being unlucky in life, they have been doing their utmost to gain victory over their destinies to become helpful citizens in society. They have performed miracles," said Nguyen Van Chi, chairman of the Ho Chi Minh City Relief Association for Handicapped Children, at a ceremony to praise the disabled for overcoming their hardships.

Disabled but not discouraged
When Huynh Anh was just over a year old, she came down with a sever illness that left her unable to walk.
Many nights, her poverty-stricken mother hugged her and cried. But she was determined to do anything she had to in order to pay for Anh's schooling.
"Being unlucky with a disabled body, only knowledge can ensure a good life for her in the future," Anh's mother thought.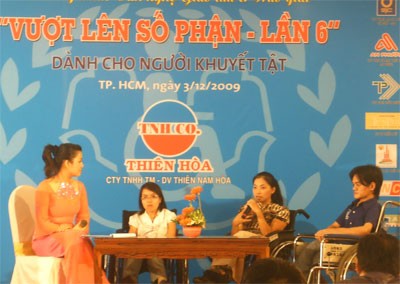 Caption: From right to left: Ngo Thanh Phuong, Huynh Anh and Dinh Thi Ly at a ceremony held to praise the disabled for striving to overcome their destinies.
Not wanting to let her mother down, Anh tried her best to study and during high school, she realized many outstanding achievements.
Her mother had also worked with Anh since she was young to help her stand on her own.
"What I can do I will try my best to do, I am determined not to rely on others," Anh said.
The first miracle came when she passed three university entrance exams at once. Reading the letters of acceptance from the universities, tears of joy rolled down her mother's cheeks.
Anh chose to study at the Ho Chi Minh University of Foreign Languages and Information Technology as it was close to her house. That way, she could go to school by herself in her wheelchair.
To earn money for tuition, Anh sold lottery tickets after school.
At present, she is an administrator of a website for the District 1 Youth Union. Sympathizing with people facing the same plight, she and her husband established www.sanphamcuanguoikhuyettat.com in 2008, in a bid to introduce products made by the disabled.
They also set up a scholarship fund named "Hope candles" in early 2009 to encourage disabled students and pupils to study hard.
Growing up disabled, Anh always told herself "to accept life and confront difficulties in order to have the opportunity to live well in the present and better in the future."
Strength through knowledge
Dinh Thi Ly, a freshman of the HCMC University of Science's Information Technology Faculty, has the body of a five-year-old child. But while she is physically weak and small, her courageous spirit is anything but.
Ly has to make regular visits to her doctor, yet she has remained an excellent student all through her school years.
The young student was recently dealt another blow, however, when she learned she had a bone weakening disease known as osteogenesis imperfecta. Desperately wanting to be independent, she has to rely on her mother for help with daily activities.
"I think as an unlucky person, the only thing that can make me confident in life is being a master of knowledge. Due to my poor health, I chose to study information technology, which is also my favorite subject," Ly said.
Courage through adversity
Born into a poor family, Ngo Phuong Nam contracted a disease at a very early age that left his hands permanently contorted. He couldn't even hold a pen.
While others may have become frustrated or angry, Nam saw his condition as a challenge. When his family couldn't afford for him to go to school, he tried to work to earn money himself. 
Many year later, Nam has proved that it is indeed possible to triumph over adversity and achieve great success. He now works as a handicraft and painting teacher, and also an acupuncture technician.
Anh, Ly and Nam are only three of thousands of disabled individuals who have suffered extreme hardships but found the will and energy to dedicate themselves to society. They have accomplished feats that many able-bodied people might never be able to.
"They are living flowers and precious models for us to learn from and strive to emulate," said Mai Thi Hoa, head of the HCMC Labor, War Invalids and Social Welfare's Social Sponsorship Department.