A soldier, who suffered a crushed skull, broken kneecap and ribs, lost his left eye and had most of his upper body and head burned, over the past 20 years has helped and treated burns for over 15,000 poor patients.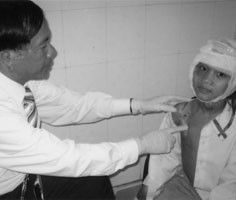 Dao Viet Thoan helps a local eight year old burns patient
Injured in the war, Dao Viet Thoan, a resident of Quynh Phu District, Thai Binh Province, learned to treat burns from medical professors and doctors at the Military Hospital 103 who gave him treatment for his severe burns.

After being discharged, Thoan received further treatment from the Buddhist monk Thich Dam Luong, of Trang (White) Temple in Thanh Tri District, Hanoi.

During nearly one year of treatment, Thoan had a chance to learn effective traditional methods for treating burn wounds from the old monk and apply them to burns patients later on.

The effectiveness of Thoan's treatment have been recognized and lauded by many patients and their relatives.

Bui Van Hung, a poor farmer from Thai Thuy District ,Thai Binh, said, "My 13 month old baby was scolded by boiling water. The burns severely affected his buttocks, thighs and penis. I took my baby to Thai Thuy General Hospital but the doctors there decided to transfer it to the National Institute of Burns for treatment because of his severe wound.

"While I and my wife were worried about the treatment costs to be paid to the institute, which would cost a couple of tons of kilos of rice," said Hung, "a neighbor told me about Thoan's excellent skills for treating burns. It was at night but I carried the baby in my arms, ran away from the hospital and took a motorcycle taxi to Thoan's home."

It is just one week of treatment, but thin skin has covered Hung's baby's buttons and thighs. Hung hopes that he can take his baby back home soon after the wound on its penis has healed.

As to the cost, Hung said that he will only have to pay Thoan VND100,000 ($5.70). It is a surprisingly cheap cure compared with current high costs of treatment at modern hospitals.

Over two decades ago, Thoan and his wife built two rows of houses, including 17 rooms, on their own land, which has been used as a small hospital for burns treatment ever since. Thoan said, "We try to cut down on every expense so that poor patients can be treated here at the lowest cost."

Indeed, resident patients at Thoan's hospital have to pay just some VND10,000 a day for treatment . They neither have to pay a penny for boarding nor electricity and water heating. Full treatment is given free to war invalids, disabled and extremely poor people, orrphans.

To help Thoan operate the hospital at such low cost, Hon, Thoan's wife, after farming work, has to go the fields in the area to ask for hay, straw, thatch and rice husk to use as fuel for boiling water used daily in the hospital. She also works as a nurse by tending the burns victims.

Thoan said, "Being poor, my patients can't afford expensive treatment at hospitals. Once they have been brought here, we have no choice but to try our best to save their lives no matter how severe their condition is."

Thoan recalled, "In 1992, a 28 day old baby was brought to my home. One quarter of its body, including sex organs, suffered third and fourth degree burns. I asked the parents to take their baby to the National Institute of Burns for treatment because that was a severe case I had never experienced before.

"The baby's desperate parents cried, imploring me to save it because they didn't have money," added Thoan. "I had no choice but to venture the treatment to cure the baby. Luckily, the treatment worked, as three weeks later, the parents could happily carry their healed baby back home."

Not only treating burn patients, Thoan also cure patients who suffer gangrene. Five years ago, Do Thi Nhan, a diplegia patient, was left to the care of Thoan because of caseation. She had a gapping wound on her back and bedsores because she had lain motionless in bed for years. Thoan successfully cured the wound.

Being a devoted curer, Thoan also visits the homes of patients who cannot go or be taken to his hospital for treatment.

There were times when Thoan was exhausted from overworking.

In a recent proposal to the PM, asking for Thoan to be awarded a certificate of merit, local authorities say that he has given full free treatment to 500 war invalids, disabled people and orphans and to 4,000 poor people over the past twenty years.

The war invalid, despite his own injuries, has done more than most who do not have disabilities.