In a 26-episode reality show 'Martin Yan-Taste of Vietnam', the world famous Chinese American chef Martin Yan travels through 15 provinces and cities across Vietnam and relates interesting stories on Vietnamese culture and cuisine.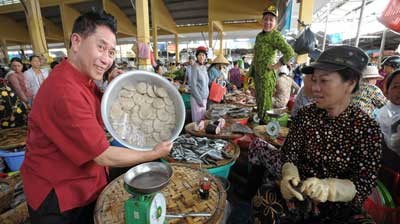 Martin Yan at Xom Moi Market in Nha Trang City during his journey for the reality show 'Martin Yan-Taste of Vietnam' (Photo: Tuoi Tre)
In 2008, Yan and a Hong Kong friend visited Vietnam during Tet Lunar New Year. They were a bit homesick to celebrate Tet so far from home. Fortunately, their Vietnamese friends gave them a joyous and warm welcome which made their trip more eventful.
From then on, it has been a journey of love for Vietnam for the 64-year-old chef. Last year he was in Vietnam to do a reality show on tourism and traditional cuisine of Vietnam.
The 'Martin Yan-Taste of Vietnam' reality show has been televised on HTV Vietnam and on Asian Food Channel, which covers several Asian nations and territories like Singapore, Philippines, Malaysia, Indonesia, Thailand, Cambodia, Myanmar and Hong Kong.
The show has also been broadcast on Public Broadcasting Services and will be on air in 25 countries in the Asian region and the world.
 
For the show, Yan traveled across 15 provinces and cities, known for beautiful landscapes such as Hue, Hoi An, Sa Pa, Ninh Binh, Da Nang, Phan Thiet, Ben Tre and Can Tho, where he joined with local residents and culinary experts to cook more than 50 typically traditional dishes of the various regions.
Yan says that the dish he remembers the most is Com Tam (broken rice). Broken rice with grilled pork chops is a popular dish in Vietnam.
"Broken rice is less nutritious than ordinary rice but the Vietnamese people use it to making a very tasty and healthy dish," he said.
The meal Yan remembers the most was in Vung Vieng fishing village in Quang Ninh Province, where he had dinner with a local family who were too poor to even have electric light.
Fresh crimson snapper was caught from the fishing raft. Tomato and water dropwort were bought from a grocery boat. With only these as ingredients, Yan prepared the Ca Nau Ngot dish--a simple and delicious fish soup. By late afternoon, they all gathered with the family to have a warm dinner.
Also during their cross country journey, Martin Yan had a chance to nibble the blazing Roselle petals at Viet Hai fishing village in Hai Phong National Park in November--the end of the flowering season.
Local residents skillfully separate the flower petals from the pistils and dry them to make jam. The pistils are also dried in a pan and then laid on the ground to be dried and crushed to make a special tea drink. The Roselle plant leaves are also used for cooking soup and braised fish.
"I am the most fortunate man in the world," said Yan after learning how to make Roselle petal jam and drinking Roselle tea.