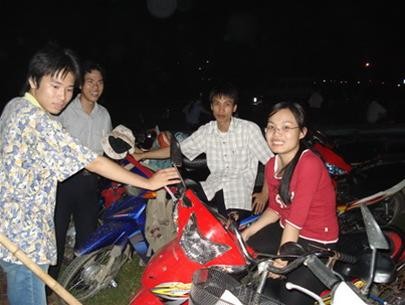 Huong Diu (R) and her fellow activists

The residents of I9 Thanh Xuan Bac Street in Ha Noi used to hold their breath whenever they passed near the basement of the old apartment block. It smelled to high heaven, and had done for so long that everyone thought it was normal and to be expected; everyone that is except university student and fellow resident Huong Diu.

The young woman, who was majoring in environmental studies at the Ha Noi Natural Sciences University, spent much time gathering information and found something from the Ministry of Natural Resources and Environment that said the average citizen threw out nearly a kilogram of garbage per day, and often didn't mind too much where they disposed of it.
She decided she could do her bit to improve the quality of life in Ha Noi by starting in her own backyard, metaphorically speaking.
Diu was inspired to start her campaign by a sanitation program run by the World Bank in 2005. She began by sorting through and categorizing the waste in the disgusting basement.
Her initiative immediately won support from five fellow students, and they pledged to stick with the project to the very end. Together they came up with the slogan "Garbage is a natural resource, not throwaway stuff".
Diu's apartment was made the headquarters and from there the six activists called on every resident of the building to discover the intimate details of their garbage habits.
Then they gave each family two bins plus plastic liners in two different colors: blue for organic refuse like vegetable scraps and leftovers and black for recyclable plastic bags, bottles and such.
Both kinds of waste then went to the basement for deodorizing, after which the recyclable stuff was taken to a garbage disposal plant and the organic refuse was shipped to the Cau Dien Phosphate Factory for making fertilizer.
These days Diu is involved in checking and improving the quality of tap water in another apartment building.
Asked about her plans for the future, she responds "I wish I had all the time in the world to work and learn more. But what I intend to do is return to my hometown in Thai Nguyen province and realize my dream of cleaning up the polluted Cau River".