"Healing people is what I truly want to do in this life as well as in the afterlife -- this is my predestined avocation," says 92-year-old Dr. Tran Dung Thang, a long time resident of Phu Nhuan District in Ho Chi Minh City.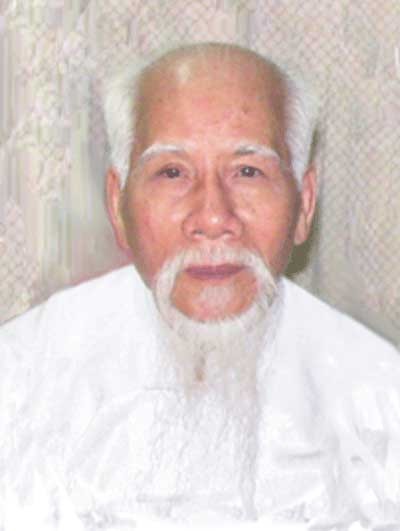 Dr. Tran Dung Thang
Dr. Thang comes as a complete surprise. One expects a frail nonagenarian with poor vision and sans teeth -- but when he opens the door with a warm smile and ushers his guests into his house without the aid of a cane and reads visiting cards without glasses, one can only be amazed.
He is simply a picture of good health with his silvery white hair and scant flowing beard, upright body, glowing skin and an extremely alert mind.
In Ho Chi Minh City, he's a savior for hundreds of people suffering from various ailments from severe arthritis to a simple cold and cough. People flock to his home on Huynh Van Banh Street every morning and eagerly wait their turn, with some coming from far away provinces. Many claim that in just one or two sittings they have been relieved of their pain and discomfort.
He has set no fee for his treatment. Some patients are so poor he does not have the heart to take money from them, so those more affluent leave whatever amount they wish, with some making larger donations. These donations are used for more charity work by Dr. Thang, who also funds free education for needy children.
Dr. Thang treats his patients using a unique technique called 'Face Diagnosis and Cybernetic Therapy' that was developed and introduced by a doctor at the Traditional Medicine Centre in Ho Chi Minh City. The technique is similar to acupressure, except that the focus of the pressure is solely on facial points followed with extra heat being applied by moving a smoking cigar-like incense stick over the related meridian point.
Meridian points on the face are all related to organs in the body that need healing in different illnesses. Dr. Thang claims the treatment is so magical and so effective that in most cases it brings about instant relief.
Born and brought up in Hanoi during wartime Dr. Thang recalls difficult days in the past, very little or sometimes no food, no warm clothes, no medicines and often no home to go back to -- and at all times there was a constant fear of aerial bombings.
He says he was lucky that he had a job as a geography teacher in a commune high school. He received a meager salary but it still was more than most people earned at that time.
"However, things were very bad and I could not even feed my family. I heard that there were more opportunities in Ho Chi Minh City after the American troops left and thousands of Vietnamese migrated, fearing a backlash from North Vietnam.
I brought my family to Ho Chi Minh City, and today I am happy that I took this decision. Everything worked out well for us. The weather is warmer, people are friendly and there is enough work here," says Dr. Thang.
He heard about this new form of holistic treatment about 20 years ago and took a training course in it, in Ho Chi Minh City. Every day he practiced till he knew the human anatomy well enough to identify ailments. He began by treating friends and relatives and then he became so well known that he had to set aside a few hours in the mornings for patients who began queuing at his door.
"The past nightmare is over and we survived, but now I only think of healing people. I have travelled to 30 countries and want to travel more. I also want to train more people in this holistic drug-free method of healing."
Reflecting on life, Dr. Thang thinks that most people, from his vantage point, go through life just observing it like a film--observing it, wasting it, but hardly living it to the fullest.
He likes the comforts of modern day living and all that modern technology has provided, but feels young people can get quite easily lost in today's world and pick up the appearance of success through material things and the so-called visual accouterments of success.
Youth of today are engaged in a different kind of struggle and parents need to provide more support. "How can one blame a young teenager for taking drugs and going astray, it is the parents who should put in more effort in bringing up their children," he says.
"I thank my creator for my present work. It is so humbling and so fulfilling to see people get well. I work for a few hours every day and am at peace -- in 20 years I have never been sick even once.
I am aware of my mortality but fear nothing. Every day I want to heal more people and if there is an afterlife then this is the only work I want to do there -- forever heal people."
Dr. Tran Dung Thang can be reached at 247A/32 Huynh Van Banh Street, Phu Nhuan District, HCMC--Mobile: 0938 850 952