The new CTM drama troupe has opened in HCM City's Cultural House in District 6.

Managed by veteran actor Thanh Hoang and his partner, Bao Anh, a businessman with experience in the industry, the troupe offers shows for young people.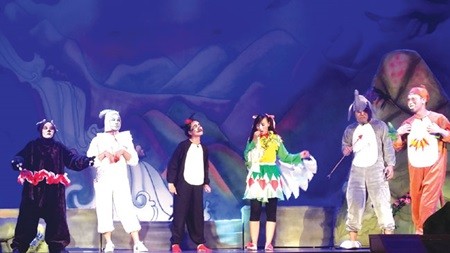 Young talent: A children's play called Bi Mat Rung Xanh (The Secret of the Jungle) is staged every weekend by the CTM Troupe, a new private drama troupe in HCM City for youth. — VNS Photo Nguyen Loc
Anh, director of Xuan Huong Entertainment Company and the owner of the troupe, said: "Through our troupe, we want to develop drama among youth, particularly children, who can learn valuable things about our history, culture and traditional lifestyle."
"There is no drama theatre in District 6. Although we know that we face challenges, we believe in the future," he added.
Thanh Hoang, former director of the HCM City 5B Theatre, one of the city's leading private troupes, said: "Whenever I perform on stage, I see young audiences excited about the art."
The troupe opened last weekend with a special play for children Bi Mat Rung Xanh (The Secret of Jungle), featuring a brave boy and his animals who try to protect the jungle from illegal hunters.
The play attracted young actors from schools like the HCM City Theatre and Cinematography University and University of Culture.
In the coming weeks, the troupe will present Tinh Chuyen Nhuong (Game of Love) and Ben Tinh Chiem Bao (Dream of Love), both of which feature conflicts in love and marriage that young people face in modern life.
"Young directors find it hard to develop their career because art troupes prefer working with experienced and talented actors like Thanh Loc and Ai Nhu," said director Tung Phi.
Phi said: "The troupe is a good chance for young actors to show off our abilities."
The Anh Duong-Bach Long Troupe, owned by veteran actor Bach Long, offers shows staged specially to serve children. The troupe's plays are staged every Friday, Saturday and Sunday.
Long, teacher of many cai luong stars such as Que Tran, Vu Luan and Tu Suong, said: "A cai luong troupe of young performers who will stage plays for young people was my wish for many years."
He won two golden medals for Best Actor at the National Cai Luong Festival in 1982 and 1987.
In 1990, he opened Dong Au Bach Long Troupe which offered cai luong training for children.