The HCMC Party and local government leaders honored Prof. Tran Van Giau for his 80 year membership of the Party and life-long devotion to his revolutionary and educational career on Monday.

Prof. Giau is considered a "precious and ancient tree" in scientific circles, owing to his profound knowledge, blossoming through his grandiose lifetime work that includes over 150 social scientific researches and large volumes of work published in reference books.

Tran Van Giau, is the senior teacher of many generations of teachers in Vietnam. Commenting about his brilliant career, Prof. Giau however said that he became a teacher by chance.

Prof. Giau said that he joined the Communist Party when it was still in its embryonic stage and held the position of secretary of the Southern Party Committee.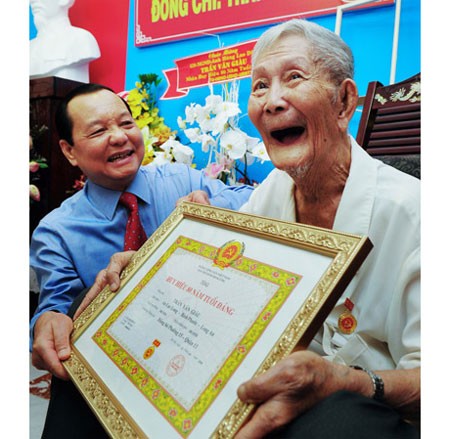 Prof. Tran Van Giau  (R) happily receives recognition for his 80- year service to the Party and the country's education sector (Photo: SGGP)
During the period before the August Revolution, Prof. Giau worked as an unofficial teacher for the Southern Party Committee's Communist Youth Team. In 1951, he became an official teacher when he was entrusted by the government of the Democratic Republic of Vietnam with the task of building preparatory schools in the context of the fierce war against the French.

Ever since then, Prof. Giau devoted his life to teaching and research and is recognized as the person that has made significant contributions to national education, especially tertiary education.

Emerging from Prof. Giau's research work in a tremendous variety of fields are books about literature, history and philosophy.

Prof. Vu Khieu, one of Prof. Giau's colleagues, said, "In most of Prof. Giau's books, including those about history, readers can always find the skillful combination between the interesting nature of literature and the depth of philosophy."

Prof. Giau has a great passion for work. He said, "Since I participated in revolutionary movements in 1945, I have had a mere 31 days from work. That was when I was kept in captivity by the French in a room with an area less than four square meters on Con Dao Island."

Prof. Giau is also a person who always sticks to his chosen ideals. He has written thousands of pages about patriotism, the Party, Uncle Ho, Communist International and the nation's resistance war against foreign invasions.

In recent years, aside from giving himself up to scientific research, Prof. Giau has been deep in thought about issues related to revolutionary and communist ideals, nationalism and the development of the Communist Party in the country.

Not long ago, Prof. Giau cut a photo from the Nhan Dan (People) newspaper, which featured the president of Venezuela, Hugo Chávez, shaking hands with the president of Bolivia, Evo Morales.

He put it in a frame and placed it on his desk to express his happiness about the current growth of the left-wing movement for socialism in Latin America.

Although famous, Prof. Giau lives a simple life and is ready to share his profound knowledge with younger generations. He always leaves the door of his house open to welcome anyone who wishes to come to learn from his works.

But it is not just younger people or intellectuals come to Prof. Giau's home.

Found among the guests are leaders of the city who come to him for consultations.

In his meetings with representatives of the city government, Prof. Giau always recommend them to speed up the movement "Study and follow the shinning example set by Uncle Ho."

Prof. Giau emphasized, "To study and follow the example set by Uncle Ho, you are demanded to keep yourself upright and unbiased. People in my generation, especially those working for scientific and social research organizations, do not view this demand as a constraint, but see it as a favor."

As a great intellectual of the country, Prof. Giau has been awarded the titles 'People's Teacher' and 'Hero of Labor.' He was also bestowed a number of noble medals, such as the Ho Chi Minh medal and Independence 1st class for his great contribution to national education.