It is hard to believe that the author of nearly 1,000 paintings displayed at dozens of exhibitions is an 85-year-old lady, who has never been trained as a painter. However, this is a true story about an elderly talented lady, Mrs. Le Thi.
Elderly woman with the brush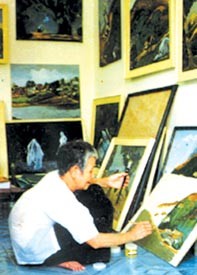 Mrs. Le Thi and her paintings

Thanh Hoa Province is her homeland; however, she spent most of her life in Ha Dong Town, Ha Tay Province with her children. The little village named La Xa lying by a quiet river has become her second homeland. Her riverside house is as big as a farm with green trees, giving a cool and refreshing feeling.
We were welcomed in a small gallery behind the house, by an old small lady with crooked back, kind face and sweet voice. She recalled the first time in 1997 when her paintings were displayed in two exhibitions; in 1998, they were sent to the International Paintings' Exhibition of French and Vietnamese Women held by famous female painter Diem Phung Thi with the participation of 34 female painters. In 1999, she attended three other regional exhibitions. Particularly, in June 2000, the Thanh Hoa Province People's Committee solemnly opened an exhibition to introduce her works to the viewers of her homeland.
Hanging on the wall of the sitting room are some of her works such as "Lang Ha Tri" (Ha Tri Village), "Cho vung cao" (Mountainous market), "Manh ao lang" (Village pond), "Mo cau" (Areca sheath), which was given second prize of Nguyen Trai Literature-Art Award 2000.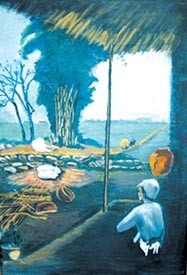 "Tua cua" (Leaning on the door)
We were attracted by a painting titled "Tua cua" (Leaning on the door). It describes an old woman leaning on the door as if she were looking for something. A small cat is lying beside her, and far away before her eyes, only appear a boundless field and an endless road in the sunset. Many visitors asked to buy this painting, but she refused. She told us that the painting was drawn as a message to her son when he was away, a memory of a difficult time and an expression of a mother's love for her son.
Perhaps, most of her paintings are inspired from her sensitive feeling for life. From landscape paintings such as "Que cu" (Old homeland), "Mien que yen tinh" (The quiet land), "Nhung nguoi cao hen" (Mussel-raking people), "Song nui dat Thanh" (River and mountain of Thanh Hoa), to the paintings describing her daily life such as "Dan ga" (A flock of chicken), "Ben nuoc" (The river wharf), "Dong que" (The countryside), "Cay da song Nhue" (Nhue River's banyan-tree), all of them demonstrate her love of life.
Painting gives strength for her life
Mrs. Le Thi has never attended any painting school, even a course for amateur painters. As a child, she showed a great love for painting when using all of her savings to buy pencils and papers. When she became a mother with many difficulties in life, it seemed that she would forget about paintings.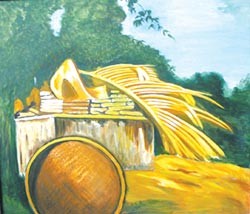 "Mo cau" (Areca's Sheath)
However, the passion flared again when her son, who was studying abroad, sent a color-box to his child, and she taught her grandchild to paint. Her first works were only simple illustrations of legendary tales; gradually, she made more paintings. She could not afford to buy canvas; thus, she used even paper and sackcloth for drawing. Since 1994, when her family's financial condition got better, she made many other paintings of different topics. Most of her works are oil paintings on landscape, inspiring from her everyday life and own ideas. She prefers paintings of sudden inspirations, without any formality of space. That makes her works unique, but still harmonious in terms of disposition.

She expressed her gratefulness for the article titled "Old Party member with the brush". Thanks to this article, the Minister of Culture and Information and the Department of Fine Arts' leaders visited her house and then helped her open a gallery at the University of Fine Arts in 1997 with 77 paintings displayed. This was the first time her paintings were displayed at a gallery in Ha Noi.
Talking about her intentions, she said: "I am 85. This Lunar New Year, many people sent wishes to me that I could have more paintings. I think that painting is the only thing I can do at this age". She also said that she will continue her work as long as she physically can.