Tran Minh Duong has received the Ton Duc Thang Prize 2009, after his 13 initiatives have saved much money for the electricity sector.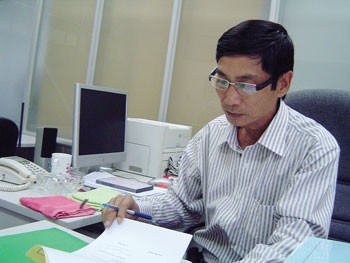 Tran Minh Duong has saved much money for the electricity sector by his initiatives.
Mr. Duong, 53, born in the northern province of Thai Binh, is deputy director of Technology and chairman of the Trade Union of the Southern High Voltage Electricity Company, Power Company No.3.
In one example of his hard work and initiative, three electric poles on the Ta Noc – Sa Dec 110 kilo volt line fell after a flood in 2000, causing a power cut in Dong Thap, Vinh Long and Tra Vinh provinces.
He promptly joined hands with his colleagues to use 20 meter-high steel pipes for a temporary period to reconnect the electricity, instead of spending too much time on embanking and bailing out the water to rebuild new electric poles.
He also applied the principal "in a vacuum, water evaporates at 70 degrees Celsius" to repair six electrodes of the 110 kilo volt power cut-off switch at Da Lat Station No 2 in 2005.
Meanwhile the company had planned to buy new machines, but his idea saved the company billions of VND.
To date, he has contributed in helping workers gain more experiences and save money for the electricity sector.
"Standing on one's own legs" is a working and living principle that he has put forward and followed for more than 30 years.