Sixty-eight years have elapsed since French colonialists in Ho Chi Minh City's Hoc Mon District shot the late Party General Secretary Ha Huy Tap to death.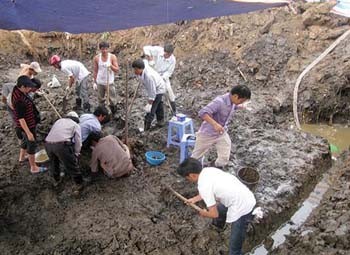 Members of the Ha family search for the remains of late Party General Secretary Ha Huy Tap in Hoc Mon District, HCM City on November 22. (Photo: SGGP)
After many long decades, Mr. Tap's relatives in the northern central province of Ha Tinh say they are happy to know his remains have now been found.
Reflecting on the difficult path to seek out the revolutionary soldier's body, family member Ha Van Sy said that relatives began the search in 2001.
People who said that too much time had passed to find the secretary's remains discouraged them countless times. Moreover, there were few individuals still alive who might have information about where he was buried.
With deep sadness, the family eventually abandoned the idea.
Four years later, however, hope was reignited when a friend of Mr. Sy said he may have a lead on the general secretary's whereabouts.
Mr. Sy and another family member named Ha Huy Loi left for Chi Minh City to investigate.
They arrived in the city's Hoc Mon District and began gathering information from local authorities and residents.
It was then they learned of a man named Chin Gioi in Xuan Thoi Thuong Commune whose grandmother had passed on information about the execution of soldiers at that time, Loi said.
After meeting with Mr. Gioi, they were taken to an area in Ben Tam Ngua Commune where Mr. Tap was rumored to be buried.
Upon hearing the news, Ha family members from all over the country came to the commune to help.
With assistance from local authorities, residents and even some claiming to be telepathic, it was determined that Mr. Tap's tomb was buried under a resident's house.
With permission from the homeowner, the group made plans to excavate.
On November 22, after burning incense and performing rituals, the Ha family began digging with hoes and shovels. After a full day of hard work, they finally discovered a piece of a leg bone. Dismissing their fatigue, the group continued to dig by hand.
Four hours later, they found more bones and a specially cut piece of bamboo, a likely indication that it was in fact a soldier's grave.
During wartimes, French colonists were said to have cut off the heads of those they killed and displayed them on pieces of bamboo.
Local residents would often wait until midnight and then secretly collect their bodies and heads, connecting them back together with pieces of bamboo before burying them.
As the Ha family continued on, they found a skull, shoulder blades and shell fragments.
The following afternoon, the group finished digging up all the remains, joyful in the belief they had been reunited with their long lost family member.