Vietnam's central province of Ninh Thuan not only attracts tourists with its beautiful beaches but also with its high quality fish sauce called Ca Na.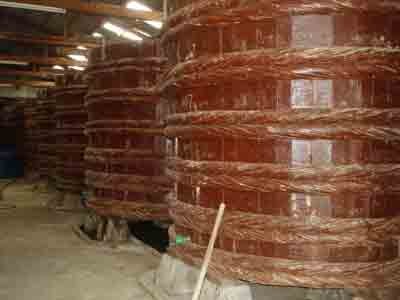 The place where fish sauce is made is called nha thung (house of barrels) because of the large wooden barrels in which the sauce is prepared (Photo: Ngoc Anh)
Fishermen in the province each year catch more than 31,000 tons of fish, mainly anchovies, an important ingredient in making fish sauce.
Over 60 fish sauce manufacturers from Ca Na Ward supply about ten million bottles of fish sauce to stores across the country.
This fish sauce industry has been a boon for fishermen in the ward who are netting in the money.
Pham Dung, an experienced fisherman said he started from scratch when he moved to the ward 30 years ago, but today is a rich man, just by catching anchovies.
Dung added that not only him but also many other fishermen such as Nguyen Van Bong, Truong Van Ton, Trieu Ba and Pham Bo in the ward have become billionaires in the trade.
Fisherman Dinh Van Giac expressed his delight, saying that recently he has earned ten million dong per day, as this is peak time for catching anchovies.
Others in the trade, such as Le Hong Van, owner of Nhat Tan fish sauce enterprise, said his family has been making this special product for the last 30 years.
Ca Na fish sauce from the central province of Ninh Thuan is very famous for its excellent taste.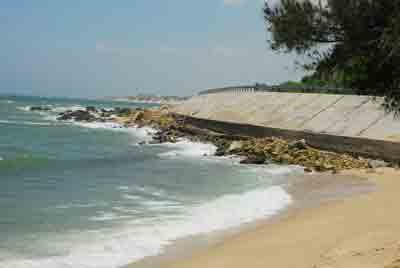 Ca Na beach in Ninh Thuan Province attracts many tourists during holidays (Photo: Ngoc Anh)
However, it is sold in retail outlets without any brand name and hence difficult to distinguish from other products in the country.
Many fish sauce manufacturers in the province are try to establish a brand name for their product.
The fish sauce manufacturing trade has been prevalent in Ca Na since the French colonial rule.

Ninh Thuan Agricultural Products Export Joint Stock Company tried to register a brand name for Ca Na fish sauce in 2007, causing much public concern.
The government now needs to aid manufacturers in the province to register their own brand name for this excellent product.