Since they first appeared last year in the Mekong Delta City of Can Tho, watermelons in the shape of a car have drawn so much attention from the public that their price has jacked sky high, yet they sell like hotcakes.

These unique watermelons were grown by 59-year-old farmer Tran Thanh Liem, a resident of Binh Thuy Ward in Binh Thuy District in Can Tho City.
He is also well-known as the creator of gold-ingot-shaped watermelons, which were trademarked in 2010 by the Ministry of Science and Technology as well as the National Office of Intellectual Property of Vietnam.

According to Liem, it is easier to mold watermelons into square shapes like the famous Japanese watermelons, than into circle or oval shapes or trapezoidal ones.

To be able to successfully grow such exclusive car-shaped watermelons, Nam Liem worked tirelessly for nearly two years, focusing mostly on making precise molds. Then the process to protect these special melons from pests and the weather began.

No matter how similar they are to a car, once their color is not yellow or their peel is not smooth, they become cheaper than even a normal melon.

However, this year, Nam Liem has promised to grow not only yellow car-shaped watermelons but also green ones for those who wish to choose as per Feng Shui requirements. He predicts that the cost will be around VND4.5-6 million per melon (US$216-288).

As Liem shared, he has already refused certain orders to emboss names of government officials onto watermelons however much they agreed to pay, saying that it was too narcissistic.
He joyfully recalls that until the 29th of December last year, many people still called to purchase car-shaped watermelons. Therefore, this year, he has decided to grow about 40 pieces to sell in the market.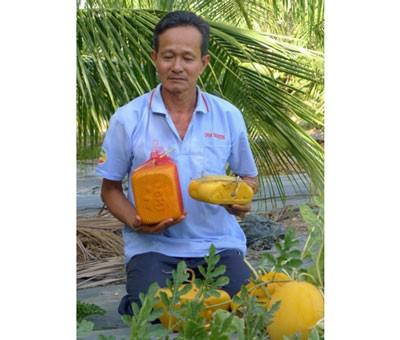 Farmer Nam Liem with his exclusive car-shaped watermelon