In a scorching sun he traveled from a university to the other very far away , where he finally found a place to set a small table to put on his tool set for making jigsaw pictures, a means of earning a living he has pursued for 23 years now to gain money for two children's schooling.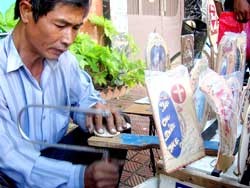 Mr. Lo Quoc Dinh makes jig saw pictures in front of a univeristy gate
After being discharged from the military in 1983, and interested in making jigsaw pictures for sale, Lo Quoc Dinh decided to move from Da Lat to Sai Gon.
Since he did not have money to take a course at a vocational school, he learned to make jigsaw pictures by himself. He said, "At first, I just tried on used boards of low quality wood instead of fir ones. It was not easy, you know. I failed many times but made it after all. I was a bit dexterous, I guess."
Shortly afterwards, he became the only man to make jigsaw pictures in the front gates of colleges and universities in 1983. His pictures sold likes hot cakes on teacher's days (November 20), the International Women's Days (March 8) and Christmas seasons. Students usually came over his small "shop" to buy jigsaw greeting cards at prices just between VND 5,000 and VND 10,000 as gifts for their teachers or friends.
"I've always tried to make the best jigsaw pictures at the lowest cost. Most of my customers are students who are living away from home – they can't afford expensive gifts," he said.
A few years later, he met a fellow countrywoman and married her. They have two children.
Thanks to his jigsaws, he earned enough to cover his children's tuition fees. Lo Van Bao, his son, has graduated from Da Lat Infantry Officer Institute. Lo Thi Thuan Thao, his daughter, is a sophomore at Ho Chi Minh City Technology University.
He and his daughter are living in a small hired house in District 2 while his wife and his son's family live in Da Lat. He says it is not the right time for him to think about a family reunion now. He has to stay here to make money to pay for his daughter's tuition fees and care for her until her graduation.
He loves his humble job and wishes to have a chance to popularize his works. As far back as the Hue Festival in 2005, he tried his luck by catching a bus to the ancient capital. After a week of living in the strange land, he came back home with a loss of VND 400,000. He said, "The problem was that they didn't allow us, hawkers, to approach the festival place. But many strangers did buy my jigsaw pictures as gifts for their relatives at home. I just suffered a loss of the single coach ticket. That was okay. I felt happy anyway because my jigsaw pictures had a chance to travel far."
Despite a weather-beaten life, he says he is feeling happy with his humble job as it helps him make honest money. Many times, he has been driven away by security guards of colleges and universities, but he did not complain. He said, "They wouldn't have done that if I hadn't occupied the place in front the school gate. It's just their responsibility, you know."
Looking at the tolerant face of the man, over 60 years old, I saw a gleam of happiness in his eyes. I knew that he was not thinking of his hardships, but about his daughter's promising future. For many years he has silently given life to his children, and now he can be proud of them indeed.