The history of kite can not be traced back. But to Mr Nguyen Thanh Van, a member of Phuong Hoang Kite Flying Club, District 8, Ho Chi Minh City, kite flying is a self-indulgence which has attracted him for more than 51 years.
The kite, the childhood and love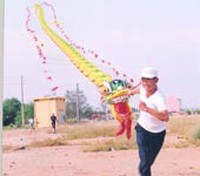 Mr Van is playing with the dragon-shaped kite
Mr Van was born in 1950, in Cho Lon (China Town), Ho Chi Minh City. Cho Lon was a well-known place for toys. But he only had a passion for kites.

At five year of age, he knew how to make kites. Van also designed kites with different shapes.
There was no space for kite flying in the crowded city; he traveled to the outskirts to look for playing ground. Most his friends gave up the game, but there was a girl who would follow him and his kites everywhere. Before long they became a couple.



All the dreams into the windy sky

Now, the kite flying game attracts local and foreign visitors who come to the playing ground of Dong Dieu 1 and Dong Dieu 2, to enjoy beautiful kites every evening.
Recently, Mr Van has just been invited to teach this game by RMIT International University Viet Nam.

Mr Van has brought his kites to many festivals. In Da Lat Flower Festival, he made kites of different Da Lat's typical flowers.

In the coming Vung Tau Sea Festival on April 11, 2006 to 15, he will finish 40 models with 240 kites which imitate the shapes of lobster, crab, oyster, turtle, snake…

In the next Hue Festival, he will present the kites which have the shapes of Ben Thanh market which is five meters wide, 2.5 meters high; a dragon-shaped kite, 100 meters long; and a phoenix-shaped kite, 30 meters long.

Besides, Mr Van can also make large kite, capable of lifting one person off the ground safely.  He said that it takes more than one month and VND ten million to finish a large kite.

Mr Van contributed to specific characteristics for festivals by his kites. He devoted a lot of his time to compile a book on the art kite-making and kite-flying. He hoped that this folk game will be handed down to generations to come.