For over three decades, Chieng A Sam, a Vietnamese of Chinese origin, has built 15 schools throughout Southern provinces for underprivileged children to help them access the light of knowledge.

Coming from a poor family in China Town, HCM City, Sam had to leave school early to make a living.

After the country won unification in 1975, A Sam depended on buying rags for his livelihood. Riding on an old, rickety bike into alleys and side streets to buy broken slippers, ripped school bags and raincoats from families in districts 5, 6 and 11, the young man was a familiar figure to the locals, who were also mostly Chinese by birth.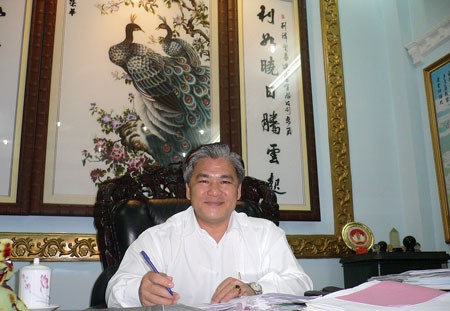 Mr. Chieng A Sam
Sam said that he began to think about helping people who lived in miserable conditions one day when he witnessed an old beggar buying a plate of rice with no other food.

A Sam said, "Looking at the poor man eating his frugal meal, I couldn't hold back my feelings, so I took out all the crumpled small banknotes from my pocket to buy some simmered pork chops for him."

"No word could express my happiness when treating the old man to a good meal. That was the first time I realized that the meaning of happiness was to share."

Three years later, Sam saved enough money to open a depot and became a supplier of rags and waste plastic grains to various plastic processors. He and his family began to live a better life thanks to such a business, but Sam was not satisfied with the achievement. He later invested all his savings in a production line to make sandal straps.

To keep costs to a minimum, Sam undertook every aspect of production, from purchasing wasted plastic grains, seeking the market for the products, to finalizing and putting them into circulation. Sam was financially rewarded for his hard work and his family could escape poverty at last.

When his family had more than enough money, Sam began to think about how to give help to the community. Sam said, "I still remembered the lesson of happiness that I learned from sharing a few years before. "

"I thought about building an elementary school for underprivileged kids, but I myself alone couldn't afford it, so I raised a subscription from my colleagues," said he.

Thanks to their contributions, Sam built Ho Van Cuong, the first elementary school in Tan Phu District.

Explaining why he chose Tan Phu to build the first school, A Sam said, "It was the area I used to travel around to purchase rags. It's also a poor district with many underprivileged children."

Since 1978, thousands of pupils have in turn studied under the same roof of the school built by Sam. Every year, 300 pupils whose families have little money are exempted from tuition fees.

After building Ho Van Cuong School, Sam began to travel to remote areas throughout the South to build 14 others.

The largest is Viet Hoa School in Dinh Quan District and the smallest is Viet Hoa School in Binh Loc Commune, Long Khanh Town, which can accommodate 500 and 200 pupils respectively. Both are in Dong Nai Province.

When asked why he is interested in building schools, Sam said, "It's good to give the poor some money so that they can buy some food to eat to ease their hunger, but what will happen to them when they have eaten it up? They will face hunger again, won't they?

"That's why I wish to give the kids the light of knowledge, as it will help them escape poverty and hunger forever. I believe this is a much better way," he added.

At present, Sam is investing in a plantation growing 100,000 Chinaberry trees. With the current price of US$200 a tree, he hopes that he can make enough profits in five years to build more schools for poor children.

He said, "I have the happiness that unlike me, my ten children all enjoyed education and have now become useful citizens to society, so I wish to share my happiness with the community. I hope that the knowledge that the poor kids gain in the schools built by myself will help them strive successfully for a bright future. "