A free website named www.chemsafety.environment-safety.com that provides useful information on chemical safety and chemistry-related topics has caught the public's attention lately. It is the result of cooperation between two students from Ton Duc Thang University, each of whom has a great passion for chemistry.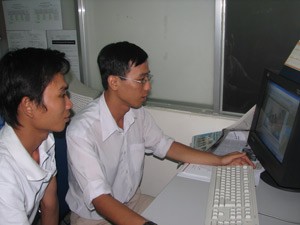 Khoa and Khanh, the founders of the website.

The journey begins

Two years ago, after a trip to Dong Nai province, the idea of establishing a website on chemical safety suddenly popped up into To Hoang Lam Khoa and Pham Quoc Khanh's minds. Seeing how the shortage of information on chemical usage affects the shrimp farmers, the two students decided to have their research project focus on "chemical safety in shrimp breeding".

However, in the process of finding necessary materials for their project, Khoa and Khanh realized that farmers are not the only ones suffering from a lack of information but so too are workers, students and homemakers. Determined to change the situation, the two students decided to establish a free website on chemical safety for anyone to access.

A year of struggle

When the school accepted their project proposal, Khoa and Khanh began their research. They discovered that most current laws such as resident laws, custom laws, and water resource laws include terms on chemical safety, usage, preservation and transportation, which they themselves had never heard of.

Their one-year struggle began with the work of collecting and translating foreign related documents on over 700 familiar chemicals used in daily life and production. What worried Khoa and Khanh  most was how to change the complicated chemical theories into a much simpler version for everyone's convenience. Khoa and Khanh stayed up late every night in their instructor's house in order to keep up to date with their schoolwork and their project.

With very limited knowledge on computer science and the internet, the two managed to set up their website. However, their first reaction to the website was that it was too ugly. Not quite the result they were hoping for, Khoa and Khanh then resumed their work cataloguing over 2,500 documents and numerous related pictures and links.

Their efforts finally paid off. The official website is now open to all who want to learn about the characteristics, tolerable levels and toxic levels of each chemical. Their project has won first place in the 2006 Eureka Awards and third place in the Sony Green Invention Award. The two also made an appearance at the Viet Nam Idea Trading Floor organized by the HCMC Department of Science and Technology and the Vietnam Book and Idea Center praised their project as being of great social significance.

To keep the website alive and free for everyone, it is temporarily being hosted by another website with a bigger bandwidth. A big concern now is how to change the website address to something much simpler, such as "antoanhoachat.com" but with their limited budget, the pair cannot afford to buy the new address. Their only sponsor to date is Ms. Hai, their instructor. Khoa and Khanh both said that their project is for the sake of everyone's health and safety, what they need most right now is a sponsor to keep the website alive.