The women who live in the fishing villages of Cau Da, Xom Bong, Nha Trang City, Khanh Hoa Province could not have imagined that one day their fishnets making skills would be closely associated with a big sporting event in the world.

The establishment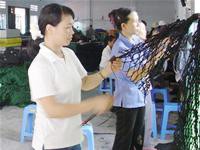 The women knit sport nets.
In 1990, Frenchman Alain Bouvot traveled to Viet Nam. He went for a walk to fishing villages in Nha Trang City, Khanh Hoa province, where he was attracted by the fishing nets cleverly hand-knitted by women.
As a businessman, an idea of a joint venture to supply the nets for sports, such as football, badminton, volleyball and tennis flashed through his mind.
Then, Sodex Toseco Joint Venture Enterprise was established by Mr. Alain Bouvot and Khanh Hoa Trade and Investment Company to produce sport nets and accessories.
Eleven years with Australian Open
Mr. Nguyen Ngoc Tien, deputy sales manager of Sodex Toseco said, "We have recently been in the headlines thanks to our supply of football nets for the 1998 World Cup; but our biggest pride is having been sole supplier of nets for the Australian Open, one of the four tennis Grand Slams since 1995."
Besides, Sodex Toseco also supplied the nets for other biggest sport events in the world, such as Skiing World Cup in Italy and Paralympique Sydney, Football Tiger Cup 1998 (Viet Nam) and South East Asian Games 2003 in Viet Nam.
After the success of sport nets, Sodex Toseco started to think about new products. The staff of skilled engineers and mechanical workers created new designs and produced "Made in Sodex Toseco" sport products, such as mobile basket posts, equipment for gymnastics, especially the set of gymnastic horizontal bar suitable to small houses.
Domestic market attack
At present, Sodex Toseco's 70 percent of turnover is primarily from export. Although the price is cheaper than similar imported products and the quality is even better, but the domestic market remains a great challenge to the company.
According to Mr. Nguyen Ngoc Tien, there are many Ho Chi Minh City indoors sports stadiums using the company's posts of volleyball and basketball, but the sales is still low in comparison with real demands.
He said that the main cause is advertisement and publicity, which is not paid attention to appropriately.