Sybille Weber, a German chemical engineer who helped Vietnam in its fight against the Americans, died on October 10 at a hospital in West Germany.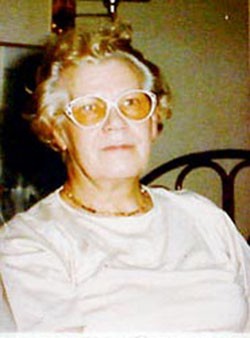 Ms.Sybille Weber
She had been suffering from a heart disease since 2004 and later got cerebral thrombosis.
Ms Weber was born in 1925 in a family that had a tradition of being anti-war and supporting peace and justice. Her mother told her about the cruelties the French colonialists perpetrated on the Vietnamese, possibly helping create Ms.Weber's special attachment for Vietnam.
After the Second World War, she became a member of the German Communist Party (PKD) – the party of Thalmann and Rosa Luxemburg. Her husband and father-in-law were also members.
In the 1960s Vietnam faced great hardships in fighting off US and unifying the country. There were many Vietnamese students fighting for independence and freedom. Ms. Weber was one of many German students who actively supported Vietnam and president Ho Chi Minh.
In 1965 a German non-governmental organization called Help Action for Vietnam (HAV) was set up with Ms. Weber as its secretary general. HAV collected medicines and other essential goods to send to the battlefield in southern Vietnam.
She convinced many people and organizations to support and aid Vietnam. In 1972 she persuaded the daughter of the West German President to become a member of the Communist Party.
She led HAV delegations to Vietnam on many occasions to discuss medical assistance for the Vietnamese.
After Vietnam gained independence in 1975 HAV, under her leadership, coordinated with Vietnamese organizations to develop many projects in areas like health and environment. These included the Hai Phong children's hospital and Cho Ray hospital in HCMC; training centers and schools in Nghe An and Ha Tay; schools and medical centers in mountainous provinces; and projects in Quang Ninh and other provinces.
The total value of projects and goods that HAV conducted and aided for Vietnam was about DM 170 millions. Besides, there were a lot of other items that could not total up.
In 1980 the Vietnamese government conferred on Sybille Weber the Medal of Friendship, an honor reserved for people who make special contributions to Vietnam.
She was also received on many occasions by the late Prime Minister Pham Van Dong and former Vice President Nguyen Thi Binh.
"After I die, carry my remains to Vietnam and bury them in Ha Noi or Ho Chi Minh City," was Sybille Weber's last wish.