Brought up in an orphanage, Francis Van Hoi, a 65-year-old German of Vietnamese origin, knows what it's like to be disadvantaged and poor as a child.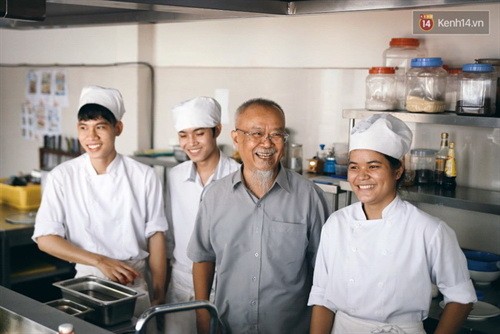 Good citizens: School founder Francis Hội (second right) and trainees at the Andrea Mai Sen Vocational School, which offers cooking and English courses. VNS Photo/Kenh14.VN
After moving to Germany when he was 23, Hội made a good living but decided it was "time to do something for his native land", especially for talented children whose families cannot afford school tuition.
So, he set up the Andre Mai Sen Vocational School where disadvantaged kids receive free tuition and accomodation while learning how to cook and serve Western dishes.
Besides cooking, the students attend English courses at the school located in Bình Thạnh District. After graduation, they receive international certificates to work at home or abroad, or they can choose to work at the Mai Sen Bistro on 56 Nguyễn Văn Lạc Street.
Hội, who covers all costs for the 105 trainees, says that teaching professional skills is easy but bringing the students up as good citizens with high moral standards is more challenging.
During the first two weeks of enrollment, the students are required to work odd jobs such as washing dishes and toilets. The goal is to start with easy tasks that lead to more demanding ones, Hội says.
Y Mui, a 19-year-old trainee from the Ba Na ethnic minority group, says he was thrilled about being accepted at the school.
"We know that Mr Hội is demanding because he wants us to reach adulthood."
Soon, however, the building where the school is housed will be demolished and Hội will have to find another site.
"I believe that someone else with a good heart will later replace me to manage the school and help the disadvantaged children," Hội says.