Le Vu Lan (Filial Piety ceremony, or Ghost festival) may soon be recognised as a national festival of Vietnamese culture. The Centre for Religious Cultural Heritage Preservation has submitted the festival to the State for recognising.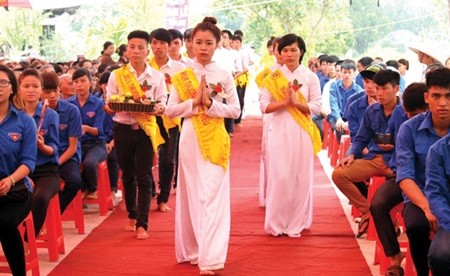 Paying respect: Vietnamese girls seen during a celebration of Vu Lan Day at Hang Pagoda in Thai Nguyen Province's Dong Hy District. The festival is expected to become an official national ceremony in the near future. — VNA/VNS Photo Lan Anh
"The submission has received the agreement of cultural specialists, professors, doctors, officials and activists via seminars as well as surveys held by the centre over the past of two years," said Tran Khanh Du, director of Centre for Religious Cultural Heritage Preservation under Viet Nam Cultural Heritage Association.
Associate professor Hoang Thi Tho of the Viet Nam Academy of Social Sciences said that the ceremony, which is a Buddhist practice, has been altered to fit with Vietnamese culture since Buddhism arrived in Viet Nam about 2,000 years ago.
The festival falls on the fifteenth day of the seventh month in the lunar calendar, with this month known as the spirit month in Buddhism. On this month's full moon, wandering souls are believed to return to their former homes.
The festival is based on the legend that once when mediating, a Buddha's disciple named Muc Kien Lien saw his mother suffering hell's tortures.
Following Buddha's advice, on the seventh full moon of the year, Lien gathered monks and devotees and prayed with them for his mother. Therefore the festival is to express gratitude towards ones' parents (especially mothers) and also help ancestors' lost souls find their way back to earth.
People visit pagodas and temples to worship ghosts and spirits through offerings of food, votive objects and animals such as birds and fish are also released. Presents and flowers are also given to parents to show appreciation and gratitude.
"The filial piety is not only a beautiful value of Vietnamese culture, but also helps prevent the degradation of social morals," added Du.