People often travel thousands of kilometers to see artistic works in far-off places but fail to recognize equally beautiful things in their own backyard. 

Ha Noi is home to some amazing but little-known works of art. Here are some: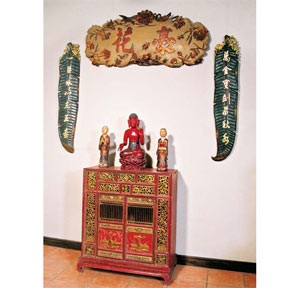 A red lacquer table trimmed with gold at the house of Mr. Cuong (Photo: SGGP)

Gallery no.39 (39A Ly Quoc Su St., Hoan Kiem District)



This place, 15 minutes on foot from Sword Lake, has become a familiar haunt for those who love classic art. It belongs to painter Le Thiet Cuong.
 
The large five-floor house was built in classic French style, circular with a diameter of 7 meter. Realizing that standing inside a tall cylinder induces a claustrophobic feeling in some, the owner, also the designer, decided to build walls of glass running all the way from the ground to the top -- a skylight with a twist.
 
Open at the top, not only does it allow light but also rain to pass through.
 
The space around it is splendidly decorated with a small aquarium, wild banana trees bought at Buoi Market, rocks, orchid plants covering large parts of the wall.
 
On the second floor is a bridge linking the two sides, designed like a temple roof and resting on four stone pillars. The ironwood for its frame was soaked in lime for a long time to fade its classic wooden color and give it an aged look.
 
Mr. Cuong also has a lot of antiques. He says he loves to find out about and preserve relics from cultures facing a risk of dying out. He has a camera obscura believed to be the first version of the camera imported into Vietnam by the French. Then there are sets of 'trang ky', the classic wooden table and chairs.
 
But the two most impressive items are a dressing-table made of red lacquer trimmed with gold and a decorative square table overlaid with seven layers of lacquer. These have been handed down by his grandfather who used to own a wood processing factory in Ha Noi.  
   
Mr. Cuong personally looked for building materials in the countryside, selected the right kinds of woods, found stone carvers, and did everything on his own. It took him three years and US$50,000 to make over his house. 
 
On the first floor is Gallery No.39 which has works exhibited by owners and painters.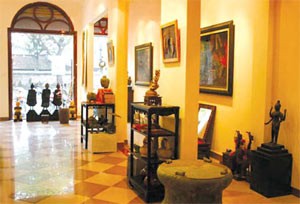 Maison des arts is filled with traditional art items (Photo: SGGP)

Maison des arts (31A Van Mieu St. Ba Dinh Dist)  



Maison des arts, or "house of arts," belongs to Vietnamese-French woman Nguyen Thi Tuyet Nga and her husband, Daniel Roussel, a French documentary maker who has made some films about the historic town of Dien Bien Phu and General Vo Nguyen Giap, the architect of the Vietnamese victory over the French colonialists.
 
Ms. Nga, who used to work in the area of French architecture, hoped to build a place to organize art performances that will also be true to traditional Vietnamese culture.
 
The ground floor is a small museum while the second and third floors have been designed to display contemporary art, often arrange item in accordance with the current art of arrangement. The fourth floor has many books and soft piped for people to sit and read.
 
The fifth floor is designed like a typical wooden house in the nothern plains and has wooden furniture. It too has displays, but not of inanimate things. Rather, it features activities like the tea ceremony and ca tru (traditional chamber music featuring female vocalists that originated in northern Vietnam) and chau van singing (a traditional Vietnamese folk art combining trance singing and dancing). Many wooden carp hang on the walls. Ms. Nga says they symbolize the legend of the carp that turned into a dragon to fly away and manifest her desire to promote Vietnamese culture to the world.
 
From the terrace, one can see the Temple of Literature with its old green trees, red-lacquered bell tower, and centuries-old roofs in its Thai Hoc courtyard.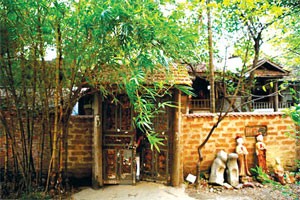 The front door of the stilt house owned by Nguyen Manh Duc in Ha Noi (Photo: SGGP)

Stilt House 'Duc' (Team 50, Group 5, Vinh Phuc Ward, Ba Dinh Dist.)



Those who love stilt houses are likely to know painter Nguyen Manh Duc not only because of the long list of such houses he has designed for customers like painters Thanh Chuong and Dao Anh Khanh but also because of the large one he owns in Ha Noi.
 
He bought the 500-square-meter house in Ba Dinh District from a Muong (a Vietnamese ethnic minority) family in the northwestern province of Hoa Binh in 1989. He dismantled and brought the whole house to Ha Noi, setting it up with but minor changes to allow for some practical conveniences.
 
He moved the floor up to 2.5m and narrowed the porches on the four sides, putting up staircases along all of them.
 
The normal house design in the northern plains only has one porch in the front and one staircase. The host will be able to see his guests and decide whether to welcome or reject them. The makeover means Mr. Duc has to accept every guest that comes. But he says he is comfortable with the arrangement since "I'm easygoing and gregarious."

He chose to decorate his house with stone dogs in different various shapes and positions – one sits waiting at the bottom of the stairs, another in the garden. He also has over 2,000 ceremonial paintings by ethnic minorities living in the north of Vietnam. But the most impressive items must be the many Buddha statues made of gilded wood.
 
The house has been chosen to host various outdoor arrangement art exhibitions. The first to do so was painter Tran Luong, with his show entitled 'Khoi Thuy' ('Initial'), soon after the house was completed.
 
The owner is always willing to tinker with the structure of the house, like removing the roof or moving the walls, for the exhibitions.
 
Mr. Duc also invites traditional artistes sometimes to perform for himself and his guests. He says: "My late father, writer Kim Lam, always put on performances of cheo, quan ho, ca tru and chau van for his guests. He even went to Hoa Binh to bring Muong performers."