Young people has recently interested in creating handmade presents for Vietnamese Teacher's Day (November 20). There are numerous inexpensive homemade gifts ideas for educators.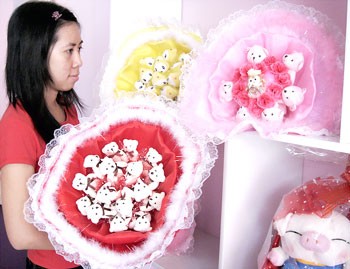 Bouquets are made of teddy bears.
Thu Huong, a third year student of the Ho Chi Minh City University of Social Sciences and Humanities, has learned the skill of flower and fruit arrangement at HCMC Women's Cultural House.
Huong said that she will make a beautiful basket of flowers and fruits for a teacher in the high school to respect her for helping and encouraging her to be a good student.
Thu Ha, a third year student of the Ho Chi Minh City University of Marketing, and An, a 2nd year student, make greeting cards for their teachers.
Others make online greeting cards and email cards with special messages for teachers.
Gift shops such as Hanah, Bon Bon and others have prepared special presents including bouquets made of many small beloved teddy bears, nice paintings, portraits, and handmade knitting scarves at prices from VND50,000 (US$2.5) to VND200,000 to meet demand of young clients.
Fengshui stones and ornamental trees are also favorite choices of students and parents who want to show their respects for teachers and wish them luck in life.
There is nothing more memorable than receiving a handmade gift for a special occasion, said educators.
Most of supermarkets also offer discount vouchers for teachers on the day.