Located in the middle of a field in the Thuong Tan Commune of Tan Uyen District, Binh Duong Province, "Happy House" as the villagers call it, is a haven for dozens of unhappy and disabled people from several parts of the country. These unhappy souls gather here under the care of Mr. Nguyen Minh Man, a retired employee of the Dong Nai Center.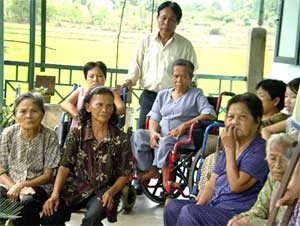 Mr. Man (standing) and the residents in his "Happy House"
On returning to his hometown after the war, Mr. Man studied medicine, with the strong desire to serve the poor of his community. After retiring from the Dong Nai Center for the Elderly and Disabled, Man spent his life savings on a piece of land in Tan Uyen District, and built a small comfortable house for charity.
In the house there is a small sewing workshop for all residents to work, learn a trade, and spend their free time.
The more than two dozen residents here have been brought to Man by different fates.
Nguyen Thi Chi, a disabled girl, said that she comes from a poor, homeless family. Her parents earn their keep by collecting the waste on streets and their lives seem more difficult with a sick daughter.
Knowing their misery, Mr. Man took the girl to his home for care, and helped her family find a small house to live in.
"Whenever we have free time, uncle Man teaches us letters and moral lessons," said Chi.
Thanks to Man's kindness, 93-year-old Ngo Thi Kha can live the remainder of her life in comfort, without worrying about her next meal. "Since coming here, I feel too happy - a feeling I did not have before," Ms. Kha said.
Everyday, Mr. Man, along with some old friends, finds joy in taking children to schools and looking after people's health. In spite of his own old age, he has no plan for his family. He said, "I am not lonely because I am living with my big family here."
When talking about his job, Man said, "During the war, I was deeply moved by my friends' deaths, and since then I know nothing is more precious than life. I am trying my best to ease the unhappy lives around me."