"In the 1980s I used go to school with my stomach rumbling from hunger," recalls H'Mai, a leader of a mountain commune in the Central Highlands.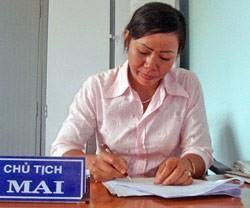 Ms. H'Mai in her office at the Dak Nia commune's People's Committee

"My family was so poor that my parents asked me to give up my studies to till the land," she says.
Born into a Ma ethnic minority family, Ms. H'Mai, 41, was the fifth child in her family in Dak Nia commune, Gia Nghia town, Dak Nong Province.
"Living in a poor mountainous area, my family suffered biting cold, hunger, and poverty for a long time. There were days when the whole family would have to get by on boiled cassava.   
"But I was very eager to learn, and would run away from the field to the school. Eventually my parents had to let me continue my studies.
"My mud house on a slope looked like a fragile bird's nest that could collapse any time in a strong wind."
But despite the hardship, she continued to study hard. In morning she went to school, in the afternoon she helped her parents look after the pigs and housework, and from evening to midnight she studied. She hardly missed a class.
In her spare time, she took part in local social and cultural activities. After graduating from high school, she became an official in charge of youth activities in the commune.  
In a village festival in 1985 Ms. H'Mai met a teacher named Le Van Dieu who was seven years older than her. They fell in love and later married.
New life

In the beginning, they lived in a small hut on a 2,000-square-meter mountain field they bought with a loan from the local bank under an anti-poverty program.
The couple tried to improve their living by growing coffee.
Soon a daughter was born, providing them an incentive to succeed.  
After years of toil, they now own a coffee plantation of more than two hectares and 2,000 square meters of land on which they grow pepper. They also raise pigs and chickens. They earn VND90-100 million a year from all this.
Well known for her leadership in youth activities and overcoming poverty, Ms. H'Mai was elected a member of the Dak Nia Commune People's Council in 2004. A year later she was promoted as deputy chairwoman of the commune's People's Committee.
Her husband has become headmaster of the Phan Boi Chau Junior High school in Gia Nghia town.
She has been conferred many certificates of merit by the local and central governments for outstanding contributions to the movement entitled "Women's endeavors for better knowledge, good performances at work, and family happiness."
They have two children, Le Thi Thuy Trang, who is a third-year student at the Ho Chi Minh City Economics University, and Le Tuan Hoang, an eighth grade student in Dak Lak.
H'Zum, chairwoman of the Dak Nia Commune Women's Union, says the success and happiness H'Mai and her husband have achieved are due to their constant effort to overcome challenges.