Master Cup, a coffee shop in Ho Chi Minh City that doubles up as an impromptu English language class, is becoming increasingly popular among young Vietnamese.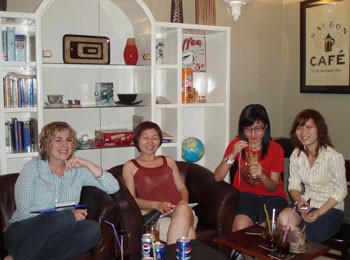 Master Cup cafe attracts young locals who come to chat with foreigners to improve their English
Its employees and customers speak English with each other while four teachers from English language schools turn up regularly to speak with customers.
Situated at 314/1B Dien Bien Phu, it was opened in 1996 by American couple Jerry and Barbara Wyatt.
There is also some structured learning done here through a discussion every Friday evening on a certain theme chosen by the teachers or customers.
Waiter Tran Ngoc Hai, who has worked at the café for just three months, already speaks English fluently. "I am very confident about using English" he says.
Le My Ngoc, a student at the HCMC International University, says: "You should not be apprehensive about your English. The teachers help you pronounce correctly."
Anh Tu and Thanh Truc of the HCMC University of Transport and HCMC Foreign Trade University say they regularly go to the cafe to improve their English and read books about British and American cultures and browse through the Oxford English Dictionary.
Jerry and Barbara used to work at Starbucks, the global coffee chain. They have been living in Viet Nam for eight years and know about people's difficulties in learning and speaking English.
Psychiatrist Nguyen Van Khue, 60, a regular customer, says he plans to organize an English "club" for his staff based on the Master Cup model.
The café also attracts young foreigners who come to chat with the locals.
"I have lived in Vietnam for two years. I love this country. Vietnamese students are very friendly and interested in learning English," Liz, an American woman and a patron of the cafe, says.