The herbalists of Tam Dao Mountain, located in the northern province of Vinh Phuc, vow that the poor should be able to receive free treatment, and state that no doctors should value money above the ethics.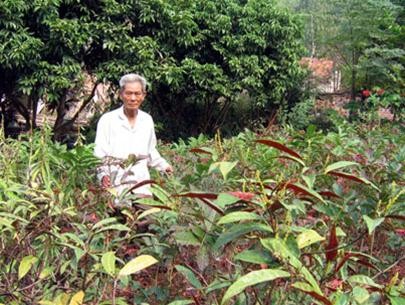 Herbalist Tai stands in his herb garden
Herbalist Le Quang Trung's clinic is just a small house along the roadside, but it is always crowded with patients. The secret to his success has as much to do with compassion as it does with wisdom, contend his loyal patients. The herbalist is only forty-five, yet he has been practicing for over twenty years.
His deceased father, Le Van Lam, who was also a herb doctor, taught Le Quang Trung to follow in his footsteps. His fathers' mentoring is something Mr. Trung is greatly honored by.
As one among eight siblings of his late father, Trung was the only one his father chose to take to work with him. One of the most valuable lessons his father passed on was to treat all those in need, regardless of their ability to pay.
There are currently 91 herbalists practicing in Tam Dao, including 52 in the Ho Son community, which is thereby considered a village for herbalists.
Herbalist Nguyen Cong Phuong, chairman of the Association of the Oriental Medicine in the Tam Dao district of Vinh Phuc province said, "Herbal doctors cannot cure all diseases, however, they should always try to do their best to save patients. Therefore, when patients are suffering from a fatal disease, herbalists advise them to seek treatment at the nearest hospital."
Truong Huu Tai, the ninth generation in his family to practice herbal medicine, and known for healing kidneys and livers, said ethics is a top priority of all the herbalists in the Ho Son community.
Mr. Tai recalled one day when a relative of a patient arrived at his house seeking help. At the time, Mr. Tai's father was ill and could not help. Meanwhile, Tai was immersed in a game of chess and was hesitant to abandon the game.
Upon witnessing this, his mother became enraged and slapped him harshly across the face. She then threw the chessboard into the yard, saying that helping the sick must be treated the same as rescuing victims from a house in flames.
Mr. Tai shares this story with his children as well as any others interested in the medical profession.
Besides the obvious differences between herbalists and medical doctors, herbalists have added another distinction to their treatment methods.
The herbalists of the Ho Son community assert that practitioners must demonstrate their compassion and commitment to the sanctity of life by practicing for their first seven years philanthropically.
Herbalists of this community must abstain from taking money from patients for their first seven years of practice.
However, even after seven years of free service, many herbalists do not ask for payment unless the patient is able to recover from the illness. The young herbalist Le Quang Trung says it best. "No herbalist will be rich."
 
There is currently a new regulation in place requiring herbalists to offer free treatment to the members of families receiving social welfare.
The new rule merely reinforces the long standing practice of the herbalist community not to charge poor patients.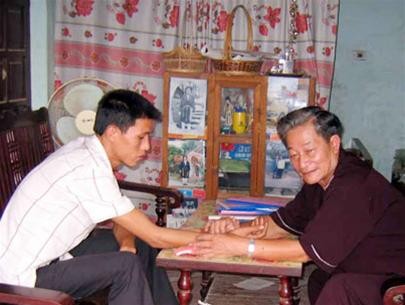 Herbalist Phuong gives a free-of-charge examination
An example of this practice can be seen in the treatment of Mrs. Do Thi Thong, the widow of a martyr from the Franco-Vietnam War, living in Nuc Ha village. Suffering from a duodenal ulcer, Mr. Phuong of Ho Son community healed her without charge.
Similarly, after a needy couple from the Yen Phuong community of the northern province of Vinh Phuc spent all their money at a hospital trying to alleviate suffering from swelling of the liver, Mr. Phuong treated them free of charge and even placed the couple in the care of a relative of his.
When the couple recovered from the ailment they expressed their eternal gratefulness to the doctor and his family and wanted to become Mr. Phuong's adopted children. They gave their word to help him any way they could. In the proudest of tones, Mr. Phuong said "I have many patients like them."
Among the 700 rare medicinal herbs grown in the region around the Tam Dao Mountain and jungle, some have yet to be categorized in Vietnamese herbal books.
Only the San Diu (an ethnic minority group) herbalists have classified these rare plants. For instance, two plants, tau pu shong and ngoi my u (in the San Diu language) are herbs used to cure typhoid fever.
In recent years, some rare herbs in the Tam Dao national park are on the verge of extinction. To protect them, herbalists have begun collecting wild specimen and cultivating offshoots in their gardens.
Additionally, some herbalists with success in reproducing these rare herbs have contributed offspring to the botanical community, allowing for greater prosperity among the botanists who are able to successfully cultivate the herbs, while at the same time offering other herbalists the opportunity to buy the herbs at a reasonable price.
Dr. Nguyen Van Hung, Director of the Hospital of Traditional Medicine and chairman of the Association of Oriental Medicine of the northern province of Vinh Phuc, said; "The association has called for social contributions in growing rare herbs in an effort to protect the herbs and provide useful resources for the hospital."