TV viewers nationwide held their collective breath while watching a dramatic contest between five, highly intelligent, high-school graduates fight it out in the final round of '2009 Way up to the top of Olympia' on VTV3 May 17. The studio audience in Hanoi gave a tremendous ovation to the winner, Ho Ngoc Han, former student of Quoc Hoc High School in Hue, who managed to outdo his competitors in the dying minutes.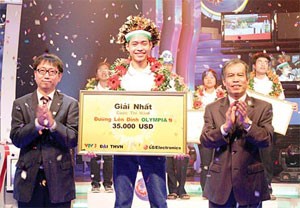 Ho Ngoc Han, winner of the Olympia competition
Apart from winning a US$35,000 scholarship, Han will also be entitled to study overseas. Ho Ngoc Han has also become a household name, owing to his spectacular victory.

According to Nguyen Chon Duc, principal of Quoc Hoc High School, Han was an excellent student. His average scores in grades 10, 11 and 12 were all over 9. Han was not only good at social and natural sciences but also at foreign languages. He had won a number of prizes from English contests organized by provincial authorities.

Although being an elite student, Han comes from an ordinary family. His father is a driver and mother is a housewife. Han organized his studies by himself, even when he was a pupil in elementary school.

Ho Chuyen, Han's father, said that Han has devoted most of his time to studying via an old internet –connected PC at home. His hobby is to collect cacti.

When asked about his secrets of studying, Han said that he has no secret at all. He always tries to study right in the class by listening to the teachers' lectures and instructions carefully. For what he does not understand, he will ask the teachers to explain it to him immediately. Every day, Han spends about four hours of self-study at home.

He spends his spare time listening to music, chatting with his classmates or friends and surfing on the internet and reading newspapers.

He has a notebook in which he records important information that needs to be remembered. He reads the notebook from time to time. This helps him learn a lot of information by heart, even detailed ones, without spending much time on it, said Han.

Han revealed that he has been interested in the Olympia competition since he was a student in junior high school. To prepare for the competition, Han has learned and studied for years to accumulate enough knowledge.

Talking about his victory, Han said that to make himself comfortable before the final round of the contest, he spent the day before the event strolling around Hanoi. He visited Uncle Ho's mausoleum in the morning and wandered about the Temple of Literature in the afternoon.

Currently, Han is applying for the entrance examinations to biotechnology at the HCMC Natural Sciences and petrochemistry at HCMC University of Technology.

Annually organized by VTV3, and supported by LG Electronics since 1999, the competition is aimed at intelligent high school students, testing their academic and trivia and knowledge.