Corn on the cob is much favored by the residents of Hoi An in the central province of Quang Nam. The city's boiled corn is so sweet-smelling that tourists keep it in their minds.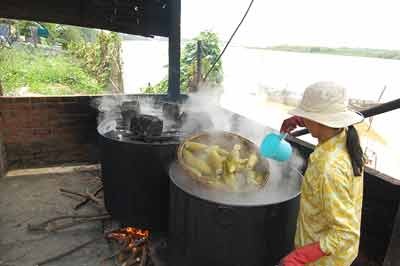 To keep it sweet, the corn should be boiled right after it is picked
Walking along small moss-grown streets in Hoi An, tourists can see vendors sell boiled and grilled corn. In the hustle and bustle of the town, English, Japanese, Chinese and Thai can be heard. These vendors hawk their goods in a dialect of central Vietnam. The sweet smell of the corn makes tourists stop and look.
Corn boiled by Ms. Le Thi Truc in Xuyen Trung village in Cam Nam Ward is famous for its delicious taste. Though there are some corn venders who have learned how to boil corn from Ms. Truc, no one is as successful as her.
Her village has been nationally famous for corn on the cob for years. Long-time, elderly residents say that the village has sold boiled corn for a hundred years. At one time, all the houses undertook boiled and sold corn. But now only six continue to pursue it. Farmland has shrunk and turnover is very small, so young people are not interested in this career.
The recipe to make corn is a family secret transmitted from generation to generation, according to Ms. Truc. Vendors must follow a strict set of procedures. They must pick corn at night it contains as much water as possible. To keep it sweet, the corn should be boiled right after it is picked. The flame must be strong enough to boil the water.
Ms. Truc's reputation for sweet corn has spread so widely that tourists often get her corn as a gift. Two years ago, a visitor from Ho Chi Minh City dropped by her store and suggested that she export her corn to the United States. "My goose flesh is plucked at hearing such a suggestion because I am used to selling corn in the street." she recalled.
Some villagers even thought the visitor was playing a trick. However, it turned out to be true when she delivered her first container of corn.
Since then, she has filled containers twice a month under a contract. She is so overloaded with work that she has her children help her. Her son Vo Van Cong has come back to help her in the business.
"My family's income has improved tremendously since," she said happily.