Few might consider that beautiful conical hats or "non la" could be the product of a physically-challenged person such as Tran Thi Thuy – or "Conical Hat" Thuy, as many call her – whose products are admired by droves of Western tourists every single day.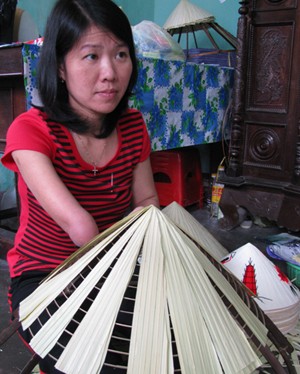 Thuy has spent three decades making traditional Vietnamese hats with one hand
There is a little house in a small alley in the imperial city of Hue, located at 165/2 Tran Phu, that lures tourists from distant countries with its special brand of conical hats. These finely decorated non la incorporate pictures or poems stitched into the straw, which become visible when one holds the hat against the sun.
This house is the home of Ms. Thuy, where she makes her special "poem hats." As a group of American visitors crossed her threshold, Ms. Thuy gladly greeted them with an unfinished hat in her hand before quickly returning to stitching the threads with a skill she has practiced for 30 years. Each patch of conical hat might be seen as a patch of her life.
Called non la in Vietnamese, the hat, with its skillful stitching and perfect shape, is light as a feather, cheap, and serves as an effective protection against sun and rain alike. It is also perhaps the most recognizable symbol of rural Viet Nam.
Ms. Thuy was born into misfortune, beginning life with a disabled arm and eventually unable to pursue academic studies like luckier children. To earn her living, she turned to making conical hats. "As a little girl," her elderly mother says, "she adored making conical hats. Sometimes she missed meals. She focused on making conical hats with any free time she had."
Even by appearances, this traditional career seems to run deep in Ms. Thuy's blood – her hand bears many scars from needles and scissors, though they pale in comparison to her disabled right arm.
Even for normal workers, making a good conical hat is no easy feat, and is understandably more difficult for Ms. Thuy. To succeed, she had to practice hard in order to control and effectively use the elbow of her disabled arm. Her tireless endeavor has since been rewarded, as she is now able to produce conical hats of a quality that her competition would have a hard time matching. "I boasted about my first product to all my neighbors though it was not as perfect as others' products. I couldn't sleep that night…"
Enchanting Westerners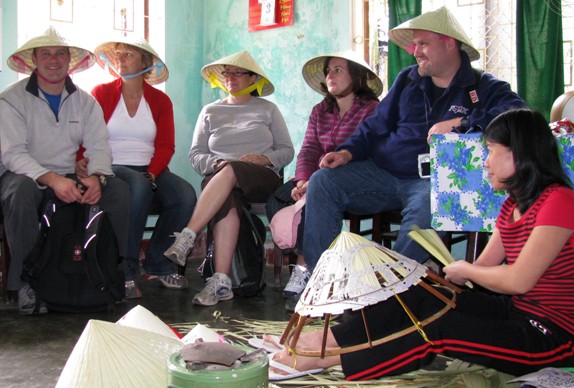 Foreign tourists listen to Thuy talking about the art of making "non la"
"Conical Hat" Thuy's fame has gone far, such that tourists from big hotels in Hue such as the Gold, Morin, and Festival Hotels curiously make their way to her house so that they can admire her work, interested in her traditional career making unique products.
An American student named Kevin couldn't help exclaiming, "Great! Excellent!" while others touched a hat with awe, passing it around for others to admire and take photos. Some even took recordings of the hat-making process so that they could watch with friends later.
While many of Viet Nam's "traditional career villages" are gradually disappearing, the making of conical hats still brings income to many families. But to continue succeeding, hat-making technique has to meet the demands of modern style. Perhaps this lends insight into Ms. Thuy's success, as her philosophy is that a non la is not only a product for sale but also a piece of art, containing the heart of its maker.
Ms. Thuy's house has not changed in the five years since it first began welcoming in Western tourists. "Everyone wants to make money," she says, "but getting foreigners to learn about the traditional career of making conical hats is the purpose I am pursuing."
These days, she volunteers to illustrate and explain to tourists how to make conical hats. More and more of Hue's tourists are coming by to see her, as three days each week she welcomes about 100 visitors from all around the world. This gives her the encouragement to put her soul into making each conical hat – and her visitors always say "see you again" when they leave.