Ho Chi Minh City People's Committee Deputy Chairwoman Nguyen Thi Thu Ha presented the city badge to Irish professor Martin Corbally, recognizing Corbally as an "Excellent Citizen" at the signing ceremony of a five-year cooperation program between HCMC Children's Hospital 2 and the Our Lady's Hospital for Sick Children in Dublin's Crumlin yesterday.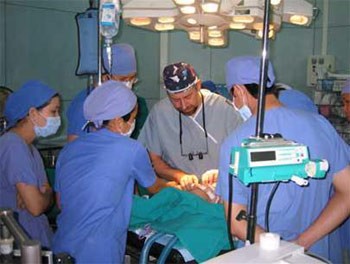 Prof. Corbally (C) is performing in a surgery in Viet Nam. (Photo: TTO)
Prof. Corbally, Consultant Paediatric Surgeon of Our Lady's Hospital for Sick Children, Crumlin, and Associate Professor of Surgery, RCSI, has regularly and voluntarily performed surgery on several children with innate malformations.
After hearing stories about some disadvantaged Vietnamese children suffering from esophageal defects from Ms. Christina Noble of the Christina Noble Children's Foundation, Corbally came to Viet Nam to make a personal survey of some cases.
He at first wanted to take the children to Ireland for treatment but was shocked at the great number of patients. Instead, he returned home to canvas his colleagues to travel to Viet Nam to perform the complex surgeries on the kids.
While paediatric surgeons in Viet Nam hospitals were thankful to Corbally and his colleagues for their help, Corbally also showed a deep gratitude for the special treatment he's been given by his local counterparts. "We have learned a lot from these surgeries," he said.

One small boy, Phi Hoang, who suffered from both anorectal malformation and esophageal stenosis, because he mistook a bottle of acid for a soft drink, was the first patient of Corbally and his team. After surgery, Hoang was elated to simply enjoy flavors, he ran around the hospital and shouting, "I can eat, I can eat!"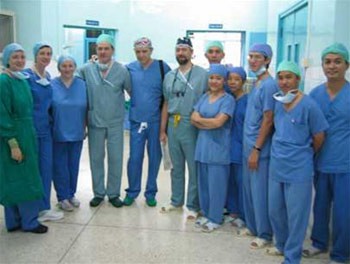 Vietnamese and Irish surgeons
Irish doctors shed tears for another case, that of Thanh Tu, a child born without an anus. Tu in fact escaped death through her surgery, because her mother was so ashamed of her child's malformation she had planned to kill them both.
Most of the team's pediatric patients are born into poor families and several of the surgeons of the Christina Noble Children's Foundation have sponsored some of the children's education up to their 18th birthdays.
According to the five-year cooperation program, Ireland's Crumlin Hospital will help the HCMC Children's Hospital 2 perform its first heart surgery in 2010.
The City People's Committee has also given the Children's Hospital 2 official permission to join hands with the Irish hospital to help disadvantaged children with congenital malformations of the digestive system over November 27 to December 12.