After 16 years of collecting old time-pieces to form the largest such collection in Viet Nam, the artist Do Duy Ngoc has made it into the Asia Guide Book. Ngoc tramped the streets of Germany, France, Switzerland and closer to home in Asia looking for rare old clocks, of which he now has more than 500.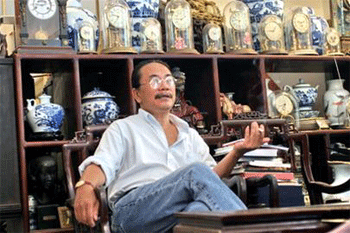 Painter and collector Do Duy Ngoc
The oldest was made in France in the seventeenth century; the rest are mainly from China, German, and Japan and are up to 300 years old.
His home is full of the tick-tocking of clocks. The Clockhouse, as it is called, is forever emitting cuckoo sounds, birdsong, horse neighs, the pitter-patter of rain, national anthems, melodies from Beethoven and Mozart, and the like.
To Ngoc, the clocks are not just collectibles, not merely a trove of culture, they are his friends too. "My clocks are a reminder that time is precious and life is short so make the most of it!" he told the reporter.