At first they just wanted something to do in their spare time but many of the wives of diplomats and businessmen have gone on to become enthusiastic practitioners of the art of Vietnamese lacquer painting.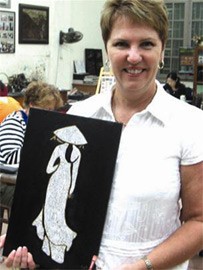 Sue Power presents her latest lacquer painting inlaid with many tiny pieces of egg shell
Their class at Ha Noi Fine Arts University is taught by Le My Kim, a former lecturer at the university and a daughter of the famous painter Le Quoc Loc.
As soon as you enter the room you can feel the enthusiastic yet serious atmosphere as the students work away at their individual projects under the watchful eye of the guiding Ms. Kim.
Sue Power from Australia joined the class six months ago and has just finished her fifth and best lacquer painting - an intricate work inlaid with many tiny pieces of egg shell. It took her a long time to complete.
Sue will take her picture back to Sydney and give it away as a Christmas present. "My family was so surprised to hear I was taking part in a Vietnamese lacquer painting and drawing class. When they see the lacquer painting with all the pieces of egg shells, they will be much more surprised," she said.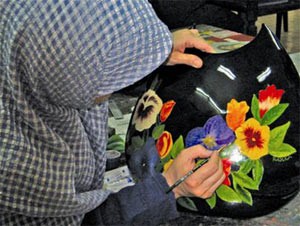 Ms. Zahra, wife of the Iranian ambassador, has nearly finished her secon painting.
Ms. Zahra, wife of the Iranian ambassador, has nearly finished her second painting. It's a flower, a veritable blaze of colors, on a lacquer vase. Ms. Zahra is one of the most promising students in this class. Although she's only been there six months and knew next to nothing about painting or even drawing before, she can now draw the most difficult and sophisticated of shapes and characters.
Liubov Fedotova, whose husband is the Ukrainian ambassador, is a veteran student with more than 12 months of art class behind her. She is doing her thirteen painting and already knows how to create lacquer colors, a difficult technique that usually takes a long, long time to master.
When she held a private showing at her home recently, Ms. Fedotova's friends were amazed at her drawing talent.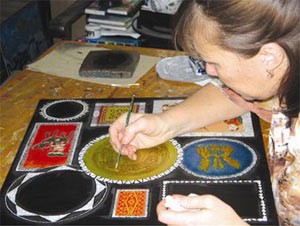 Ms. Liubov Fedotova, wife of the Ukrainian ambassador, is a veterant student.
Teacher Kim says there are more Japanese than any other nationality in her class, which is hardly surprising since Japan has a long tradition of lacquer painting too. Somewhat surprisingly, they think that the lacquer art of Viet Nam is more diverse. Nearly all the wives of Japan's ambassadors have attended Kim's class.
Vangie Dizon from the Philippines has gone from reluctant beginner to keen student. "I was wondering whether to take part in the class after my friend suggested it because I'd never had a talent for painting. Anyhow she said that wasn't important and she was right! I get great pleasure from this class."
 
Since the lessons began 25 years ago with the wives of the Algerian and Yugoslav ambassadors, Teacher Kim's classes have turned out plenty of skilled artists with a real passion for Vietnamese lacquer painting. The first courses communicate to the next and the class is now full of women from the U.S, Australia, Japan, Korea, Iran, Israel, France and other lands.
Ms. Kim (L) and her Japanese students (R)
The outcome can be as astonishing as it is unexpected. Take Ms. Navalevy, the wife of Israel's ambassador from 2001 to 2003. After returning home, she gave up her career as a lawyer to teach a lacquer painting and drawing class.
Ms. Rekia, wife of an Algerian ambassador a decade ago, is now a professional artist after four years of study.
Dominique Pizini and Iris, wives of former French and Iranian ambassadors, have opened lacquer painting galleries in their respective countries.
To further their knowledge and skills, Teacher Kim's students sometimes travel to traditional lacquer and pottery villages, and even visit the homes of well-known artists to hear their words of wisdom.
They also like to attend the lacquer art exhibition held at Ha Noi Fine Arts University every two years. It's a great opportunity for mingling with the masters and making friends in the rarified world of fine art.