At the 2006 Festival of the Sea in Ba Ria-Vung Tau Province, a dragon-shaped kite measuring 100 meters from tip to tail set a national record. The man who designed and made the kite was Nguyen Thanh Van, an enthusiast who has spent his entire life dreaming up and producing artistic kites.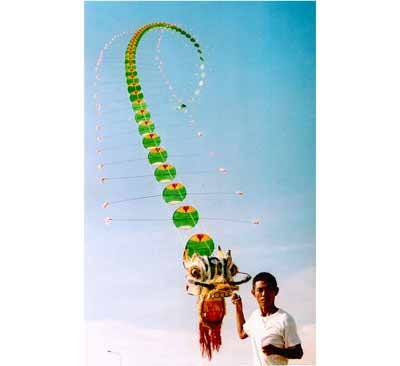 Nguyen Thanh Van is flying dragon-shaped kite, which set national record in Sea Festival 2006 in Vung Tau Province
Upon entering the house of Mr. Van, who is the president of the District 8 Kite Club, the visitor cannot help but notice the piles of bamboo, cloth, string and such all over the floor.

At the moment he is finishing a striking thirty meter long phoenix-shaped kite with a five-meter wing span and colors galore after spending a month thinking about the design and how the kite would fly high up in the sky.

Then there's the flag-shaped kite, a favorite that took Van two months to make before flying it in competition, where it made quite a splash, figuratively speaking of course.

Talking about the dragon-shaped kite that gave him his first national record, Van said the idea came from the old tale that the Viet Nam ese people are descended from a dragon and a mountain nymph.

Such is his prowess that his kites have won several prizes at international festivals and raised the prestige of Viet Nam ese kites in the world.

Any symbol can arouse his passion; his designs in the pipeline include the mausoleum of Ho Chi Minh, Mot Cot Pagoda (one pillar pagoda) in Ha Noi, the clock tower atop Ben Thanh Market and Ho Chi Minh Museum at Nha Rong Wharf in Ho Chi Minh City.
His passion shows that Van was born to make kites. In his early days, he says, flying kites was an activity for young men.

He began making kites when he was five years old, after losing a kite that someone had lent him and not being able to secure another from his kite-flying brother.

Angered by the lack of fraternal cooperation, Van whittled some bamboo and cut out some paper in the hope of making a kite but all he had to show for this first effort was a cut hand, for which his parents punished him.

Undeterred, he tried again and started to unravel the mysteries of kite-making. Later on Van became apprenticed to an electrician but still found the time to make better and better kites.

With no space left for kite flying in the crowded city, Van traveled hither and thither seeking the ideal field and found that the paddy fields on the outskirts were ideal for his purpose.

His club gathers like-minded men who let their dreams soar into the windy sky at Dieu Field in District 8, though they do worry that the rapid pace of urbanization could impinge on their playground one day just like it is swallowing up so many empty places.

They see flying kites as not just a tradition but a sort of artistic sport. When a person flies their kites, all their dreams seem to be let out into the windy sky.

Van is the only person who makes artistic kites in all of southern Viet Nam . His big concern is that the next generation knows next to nothing about kites let alone how to make them, which is why he is writing a book about kite-making and kite-flying in the hope of overcoming this youthful ignorance and passing on his passion to future generations.