Living with her war invalid husband in a small house Quang Ngai Province, Nguyen Thi Bay has silently assumed all the work of the house day after day. Not many in the community really know that Bay was a soldier of the Vo Thi Sau Squad, which achieved a glorious feat of arms in the historical battle of Mau Than Tet (1968) to liberate Thua Thien Province.
A photo of Nguyen Thi Bay, when she was a young solider in the Vo Thi Sau Squad

Bay was the last daughter in a family that had a firm revolutionary tradition in Thuy Thanh Commune (Hue City). Her mother was awarded with the title "Vietnamese heroic mother." Bay has six siblings, and all of whom were revolutionary fighters.
Growing up and witnessing scenes in which innocent people in the community were suppressed savagely by U.S. invaders, Bay harbored a smoldering hatred in her heart. She joined the national liberation war and conducted secret activities in inner Hue City where she met a special task force member who later became her husband. Not long after their marriage, her husband lost his life to the war.
Brushing away her tears, Sau joined the Vo Thi Sau Squad, which was established in early 1967. Their first battle was the Mau Than Tet. Bay and ten other young women in the squad had to fight against an enemy battalion. Bay said, "It was an unforgettably fierce battle. We won in the end and celebrated the New Year festivities right on a fortification full of gun fumes."
Thanks to their resounding victory, Bay and the ten other young women of Hue City (Thua Thien Province) in the squad were awarded the title "Hero of the People's Armed Forces." Four of them, however, had already given their lives to the cause of independence and freedom of the motherland.
After the Mau Than operation, Bay's squad was turned into a platoon and Bay was promoted to its deputy head. The war entered its most severe stage, but Bay still rushed into danger in battle fields with a faith in a glorious victory and in a unified country.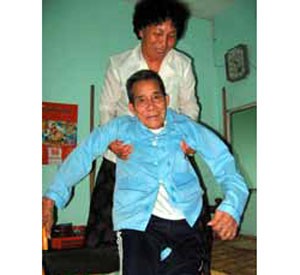 Bay takes care of his paralyzed husband, who has been on back for over 30 years.
The 30th of April, 1975 marked the fall of the Saigon's government. While millions of Vietnamese people enjoyed the feeling of utmost happiness at the national unity, Bay returned to Binh Chanh Commune (Quang Ngai Province) to meet the man of her life, get married and settled down. Utmost happiness seemed to smile at Bay when she gave birth to her first daughter; just a few months later, however, she cried her heart out in pain when both her husband and daughter passed away.
After that, Bay was demobilized and undertook a position on the Agricultural Board of Binh Son District where she met Mr. Dao Ngoc Thin, former secretary of Binh Tan Commune party committee cum head of the District Industrial Board, who was a war invalid. Thin was the single parent of his 10-year old daughter as his wife and first-born daughter had given up their lives to the resistance war. Feeling compassion for the plight of a widower who had to bring up his child alone, Bay got married to Thin and they had two more children together.

Thiin loved Bay, and she promised to herself that she and her husband would bring up the children and together strive for a bright future. Unfortunately, his wound worsened and he has been on his back for years. She has therefore had to taken charge of all the tasks in and outside the house by herself. Bay said, "Time heals all wounds. The more our children grow up, the fewer hardships and challenges. Our two daughters now have their own families; our youngest son is a border guard."
Striving for the family's bright future while always caring about the welfare of the community, Bay has voluntarily taken part in social work. She is now deputy chairwoman of the Commune War – Veteran Association. When hearing somebody calling her "the legendary heroic young woman of Huong river (a river in Hue City)," her husband said, "My wife never thinks that she was hero. For many years, she has been busy with farm work and poultry breeding to support the family - too busy to take part in the activities carried out by the local authorities. That's why she is now 60, but only has one year of party seniority."
Indeed, when the local party committee scrutinized her resume before admitting Bay into the organization, no one ever realized that there was living a legendary hero in the locality.