Seven Ha Noi children who live with their families in floating houses on the Red River have filmed a documentary about their lives and their status as society's outcasts.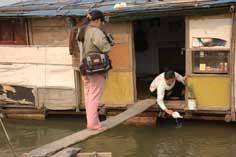 The children have filmed a documentary about their lives and their status as society's outcasts.
The children aged 10 to 14 had never used a camera before but that didn't hold them back. Besides the filming itself, they did everything from scripting to directing to make "Green Meadows", as the documentary is called.
The documentary is a part of a project by Phan Y Ly called "My life, my way of looking."
The 26-year-old Ly, who completed a course in community development with the help of a Chevening Scholarship from Britain, financed the documentary and supported the kids in other ways.
"These people, especially the children, are put at a great disadvantage. They cannot express their thoughts and feelings or contribute ideas to society like other people," Ly told this reporter.
Tran Thi Hien, 10, and her family have lived in a floating house since she was three. She and her friends attend a school for disadvantaged children, but the thought of having to quit their formal education is often on their minds.
The documentary, which took ten weeks to make, is a chance for these children to show their families and daily lives to the world.
Ha Noi's snottier people look down on the score of families that live in Bai Giua near the center of town, and decry the floating hamlet as a den of iniquity, the haunt of drug dealers and other criminals, but the reality is very different, say the children.
"People always use words like "garbage" and "thieves" to define the inhabitants of Bai Giua, but to us it is like a green meadow, a verdant grassland, and that's why we chose the name," little Hien said.
"Ly asked me what I wanted to do after five years. Originally I wanted to become a painter, but now I'd prefer to be a photographer."
The little girl's dream has changed, but nobody knows if it can come true. And will Bai Giua change for the better after "Green Meadows" is screened in the near future?