Twice every month, Tran Thi My and voluntary doctors and nurses from the Center for Lonely Mothers get on a light truck and head for remote areas, where they offer free medical checks and gifts to poor people who live alone.
 
All the members of the team are elderly people, too. Ms. My, also known affectionately as 'Lonely Muoi,' (Mrs. Lonely Tenth), director of the center, is 86 years old, the others over sixty. 
 
It is a relentless effort by the entire team, as to fulfill such a noble deed, the elderly volunteers have had to undergo long journeys over rough and muddy roads in rural areas, which are not very comfortable for them.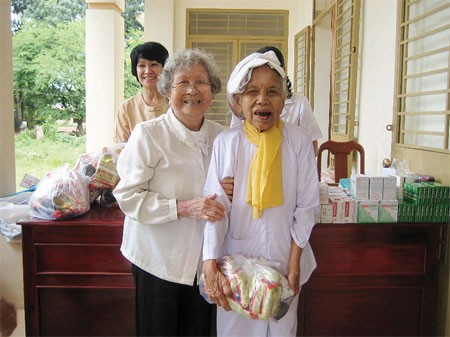 Nguyen Thi My (L) offers gift to a poor woman who lives alone (Photo: SGGP)
Ms. My's relatives are afraid that she cannot take on such a hard task and have many times asked her to quit so that she can enjoy her old age in peace and comfort at home, but Ms. My insists that long-distance traveling does not matter to her because giving help to old, needy people makes her feel useful and happy. 
 
After the country achieved unification in 1975, Ms. My began working for the HCMC Women's Association. The idea of establishing a charity center to offer help to lonely and old people, especially women, living in remote areas emerged in her mind during her trips in the early 1980s to zones which used to be fierce battle sites, such as Thu Duc and Binh Chanh districts. 
 
Ms. My said, "I couldn't hold back my feelings when seeing local elderly women striving hard for a living. I decided to raise funds from benefactors in and outside the country to set up the center in March 1989. It's their kindness and generosity that keeps it going." 
 
Pointing to the light truck, Ms. said, "French benefactors gave it to us as a gift in 1994. The vehicle has driven us everywhere throughout poverty-stricken rural areas for 15 years now."
 
Although being just a small charity, the center has have offered free medical examinations, treatment, medicines and gifts worth over VND70 billion to elderly poor people over the past 20 years. 
 
In recent years, Ms. My and members of the center have not only devoted their time and effort but also contributed their own money to the charity activities of the center. 
 
She said, "Each trip needs between VND10 and 20 million. To have enough money, we've made contributions, which partially come from our savings or retirement pensions. Of course, the contributions are inconsiderable, but we make it with our hearts."
 
Sacrificing nearly half of her life to giving care to lonely elderly women, Ms. My herself, however, is a lonely woman, too. 
 
Born in Dong Nai Province, Ms. My later joined revolutionary movements against French domination in 1942 while she was a French teacher at the Aurore and Tri Duc schools in Saigon. 
 
Her husband, also her comrade, was killed in a battle field in the war against the US invasion. She was left a widow at the age of just 36. After her husband's death, Ms. My did not marry again. 
 
With deep love for the country, Ms. My usually organized picnics or camping trips for her students and inspired national and revolutionary consciousness to them through outdoor activities, paving the way for the formation and development of anti-US war movements launched by Vietnamese pupils and students. 
 
After 1975, Ms. My was sent to Cambodia to help the country build up women's movements. She said, "I was impressed by Vietnamese and Cambodian women, those who were ready to sacrifice and stand hardships for the happiness of their families. I always thought about them and tried to do what I could do to help them."
 
Her efforts continue to this day. 
 
At present, every Thursday morning, Ms. My takes a xe om, motorbike taxi, that drives her from her home in District 2 to the charity medical room of the Center for Lonely Mothers, located at 42 Tran Quoc Thao, District 3.
 
Poor patients waiting at center can meet an elderly woman with white hair who always gives them an open-hearted smile. That is Tran Thi My, a respected woman who has pledged to devote her life to the well-being of lonely and poor women.