Ho Chi Minh City is flooded with knock-offs of foreign luxury brands. Imitations with fake trademarks and tags are being sold not only at pop-and-mom shops, but also at downtown shopping centers.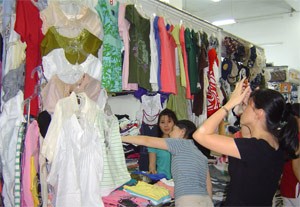 A genuine T-shirt costs US$100 while an imitation is availabe for US$9 in Ho Chi Minh City (Photo: H.Y.)
An imitation Rolex watch sells for US$100, while the genuine article costs US$3,000-15,000.  
 
A genuine Louis Vuitton or Carlorino suitcase, handbag, or purse costs at least US$200, but imitations are available for US$9 to US$18 in shops on the first floor of An Dong Plaza and Tan Binh Market.
 
A genuine Timberland T-shirt costs US$100, and a Lacoste or Holiter T-shirt US$50-200. But in HCMC, imitations are available for US$9.
 
It is easy to buy watches with fake trademarks like Rolex, Gucci, Lipice, Citizen, TAG Heuer, Oris, Rado, Cartier, Longines, Omega, and Movado at ridiculously low prices, a shopper said.
 
These imitations are available at Tax Shopping Center and at shops on Le Dai Hanh Street, on February 3 Street in District 10, and Quoc Huong Street in District 2.
 
"As I know, there are not many luxury watches, particularly Rolex and Oris, available all over the world, only a few hundreds," the shopper added.
 
In Sai Gon, only the Diamond Plaza and Parkson shopping centers sell luxury watches under their genuine brand names, he added. Their prices range from US$850-US$8,500.
 
Meanwhile, watch shops on Quoc Huong Street sell knock offs for US$31 to US$94.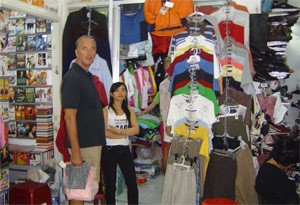 Saigon Square is a favorite place of both foreign and local shoppers (Photo: H.Y.)
Talking about luxury goods going for knockdown prices, it cannot but mention Saigon Square at 77-89 Nam Ky Khoi Nghia Street as it is called "the center of luxury brands at knockdown prices".
At Saigon Square, Lacoste T-shirts are sold for VND120,000 (US$7.5) and Gucci glasses fetch VND200,000 (US$12.5).
 
Saigon Square is a favorite with both foreign and local shoppers. Some overseas Vietnamese go there to buy gifts for their relatives.
 
Where Do Imitations Come From?
 
Most imitation goods are made in China and brought illicitly into the city by tourists and airline employees.
 
Some of the clothing sold under false trademarks are samples or substandard goods distributed illegally by local apparel suppliers.
 
A lot of imitations are made by small Vietnamese clothing producers. These companies buy superfluous materials from the brands' suppliers and then illicitly tag or trademark them to sell in the local market at prices that are often 50-70 percent less the versions sold under genuine brand names.
 
Imitation goods not only reduce state revenue, but also make foreign investors lose faith in the Vietnamese market.