In an effort to help poor people in the countryside to live better spiritual lives by bringing the light of knowledge to them, since March 2007, Nguyen Quang Thach has collected nearly 1,700 books and donated them to 19 families in northern and central provinces.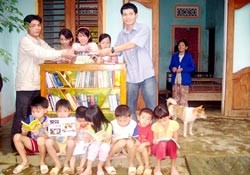 Nguyen Quang Thach (R) donates books to a family
Thach was born in 1975 into a poor family in Huong Son District, Ha Tinh Province, where many did not have access to a good education. Thach, however, was lucky enough to have chance to improve upon his knowledge, as he had many books at home.

Later in life, watching many villagers treating each other in an inurbane and impolite manner, Thach gained a belief that there was a link between poverty, lack of education and poor behavior.

Thach began to nurture an ambition of bringing the light of knowledge to poor people living in the countryside or remote areas when he was a university student.

Thach said, "There is a big library in my school, where I could read many books of different themes to enrich my knowledge. There were books that changed my life. I thought that if there had been bookcases available to the people in my hometown, their cultural life would have been different."

But how to collect and bring books to the remote areas in an effective way was still a problem. Thach spent days traveling through different villages in the North to observe the life of the people there in the hope that he could find a solution. The solution came to him one day as he was walking past a village cemetery.

Thach said, "Looking at graves being well taken care of by their families, I immediately realized the important tradition of blood-relationships in Vietnamese families. I knew that if a bookcase was given to a family, older members in the families would not only look after it well but also encourage their descendants to read the books for the sake of a brighter future."

With the encouragement of his cousin, writer Nguyen Quang, Thach, in March 2007, through his blog on the Internet, started his project by appealing to people to donate old books.

He also decided to leave his hometown for Hanoi to work. Thach explained, "I know that it's only in Hanoi that I can have chances to meet with famous intellectuals, authors and journalists who can help me collect more books thanks to their social influence. "

Responding to Thach's appeal, 52 individuals, including famous intellectuals like Prof. Phan Huy Le, Duong Trung Quoc, Phong Le, writers Nguyen Huy Thiep and Nguyen Quang Than, and overseas Vietnamese have so far contributed nearly 1,700 books (nearly 1,650 titles), and VND12 million (US$675) to the project.

Thach said, "Up to now, I have distributed books to 19 families in eight different provinces in the northern and central parts, such as Ha Tinh, Nghe An, Thanh Hoa, Thai Binh, Phu Tho, Quang Nam and Hai Duong. Each bookcase has between 100 and 120 book titles."

He also revealed that two bookcases have not worked effectively because one of the keepers is not in good health and the other has been too busy with work.

"Of the 19 families, nine have built the bookcases by themselves, I just gave them books; seven asked only for a bookcase each, as members in their families and their descendants were ready to contribute books to them," added Thach.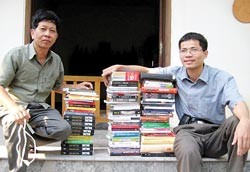 Writer Nguyen Huy Tuong (L) donate books to Thach's project
Thach said that he trusted in the prospects of the project once it has created a wider social effect. He pointed out that, at present, two families in Hai Phong and Nghe An Province have already built their bookcases and are waiting for the arrival of the donated books. Some others in Nghe An, Ha Tay and Thai Binh Provinces have outlined schemes for their bookcases.

He said, "I hope that in the coming future the project can get millions of old books coming from bookcases of families in big cities nationwide. If so, more people, pupils and students in the countryside and remote areas will then have a chance to read books, resulting in an enhancement of intellectual standards of poor people living in rural areas."

Thach is currently working for World Vision International in Vietnam to prevent the smuggling of women and children from the Mekong Delta. He always puts aside between five and ten percent of his monthly income to donate to the book project.

Thach is now outlining a plan for a trans-country trip to the South by motorbike, or bicycle, by the end of this year to invite more donations from the public.

He said, "Through the trip, I will not only collect books for my project, but also call upon younger generations to do something for the nation, especially for people living in the countryside and remote areas."

Thach said that he will pursue the project until the end of his life, to expand it to every part of the country, as devoting himself to the poor's spiritual welfare is probably the karma of his life.