"It's really interesting to have a chance in a million to listen to popular Southern folk operas (cai luong) performed by once famous artistes while most of them passed away many years ago," said Nguyen Le Hieu, collector of old records.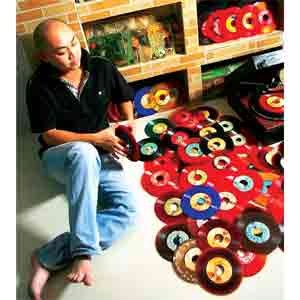 Nguyen Le Hieu and his old records
Hieu said that he has collected more than 5,000 old records. To play the records, he has spent years hunting for four different models of record players, which are compatible with his collection.

Most of the records, said Hieu, have been brought from junk sellers, the others were given to him by some of his relatives and friends.

He recalled, "Five years ago, thanks to information given by a stranger living from the Mekong Delta, I went to the Western Bus Station in Binh Tan District to buy a sack of records of Southern folk operas from the 30's, 40's, 50's and 60's from a secondhand dealer."
"After blowing dust off from them, I tried to get them to play. Many of them worked. Some turned out to be invaluable, as they were recordings of once famous actresses and actors, like Nam Phi, Bay Nam, Tu Sang, Ut Tra On, Phung Ha, Thanh Nga and Ngoc Giau," added Hieu.

From that day on, after getting home from work, Hieu turned on one of his record players and listened to operas, which used to be great favorites of many Southerners.

Being a director of a company and former manager of a luxury hotel in the city, Hieu's passion for old records and for Southern folk operas, to many people, seems to be contrary with his appearance, as he usually wears elegant clothes and uses the trendiest cell phone.

Hieu said, "I was born in 1975, not old enough to fully understand the interesting and beautiful nature of cai luong, but I truly love this kind of folk art a lot. My heart is always stirred when I listen to the melodious voices of an actress or actor."

This partially explains why Hieu can imitate or mimic the singing voice of any actor or actress.

In the Don Ca Tai Tu Nam Bo (Southern Amateur Folk Music) program, organized at La Thom Restaurant in Phu Nhuan District last year, Hieu won thunderous applause from the audience when he imitated the late famous actress Thanh Nga, who had played the character of Trung Trac, and actor Thanh Sang, who had played the character of Thi Sach, in an extract from Tieng Trong Me Linh (Me Linh Drum Beat).

In response to the audience's tremendous ovation to him, Hieu said, "Quite frankly, I just have a good ability to imitate or mimic just about any voice that comes my way. But I'm really impressed by the singing voice of such artistes. Without a true admiration for them, I couldn't do so well."
Trung Trac and Trung Nhi were sisters growing up in Me Linh, who led a rebellion against Chinese domination in Vietnam in 40CE.

Trung Trac, the elder, married Thi Sach, son of a military chief of Chu Dien. In 39CE, Thi Sach was killed when he raised his voice against the exactions demanded by the Chinese Prefect Su Ting, Pinyin Dynasty.

In revenge, Trung Trac with the support from her sister Trung Nhi, raised the rebellion flag.

The rebellion quickly attracted the participation of the peasants. Su Ting was defeated and fled to China. Trung Trac was declared queen and set up a royal government at Me Linh.

In 41CE, China sent the veteran military commander, Ma Yuan, to attack Me Linh. Trung Trac and Trung Nhi were defeated and jumped into Hat River to kill themselves.

Although the Trung sisters' rebellion ended in failure, the two have been recognized by younger generations as two heroic patriots who struggled for the country's independence.