Nguyen Quang Hien is truly a man of steel. He breaks bricks with his head – 30 at a time – and pulls a two-ton truck with his teeth. Incredibly, he plans to push trucks with his eyes using lances, their pointed sides stuck in his eyes.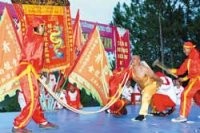 Nguyen Quang Hien bends two lances with his eyes
He fell in love with martial arts when he was 11 after watching some kung fu shows on TV. Though he recognized that was his calling in life, he did not get support or encouragement from anyone; only strong opposition from his family.
At 16, he had to start working. Worse, he could not find a master to teach him martial arts. But his desire remained intact. He decided he would teach himself.
"After watching some shows on TV, I designed some exercises for myself and followed a rigorous training schedule," he told Saigon Guide.
Five years later, he decided to show off his skills to others and arranged for a performance at Thuan Kieu Plaza in District 5
"My debut was a performance where I had to use my head to break 15 bricks. But I hadn't mastered the technique and the show was a flop. One month's medical treatment for an injured head was the price I had to pay. But I continued to train harder."
Three months after the accident, Hien got a second chance. He decided to break 30 rather than 15 bricks. This time, it worked like a treat and he had arrived.
Three years later, in 2007, he met the producers of a TV show named Chuyen La Viet Nam (Strange Things of Viet Nam). They asked him to appear on their show and he duly broke 100 bricks using his head in 1 minutes and 22 seconds to achieve a Vietnamese record.
"I'll never forget that moment," Hien says.
The third big moment of his life came when he met, by chance, representatives of VietBooks, the agency that certifies Vietnamese records. They advised him to try and break a record held by Tang Ky Quang of breaking 30 bricks with the head in 36.28 seconds. Hien smashed not only the bricks but also the record – he took just 21 seconds.
Hien performs several feats like having a rock broken on his back with two lances stabbed in his neck, and bending a steel rod using his head.
He says he soon plans to do the lances-truck feat, pushing the vehicle 20-30 meters with the spears stuck in his eyes.
"At an earlier performance I had a lance stuck in my neck and pushed a 5-ton lorry 100 meters," he says.
Hien's desire now is to open a martial arts club. "I want to share my experiences and techniques with everyone interested in this beautiful art. But my place will not only be for students to practice physical and mental exercises but also be a forum for martial arts fans to meet each other."
Though that dream will have to wait for the moment, it is easy to imagine that for a man who has overcome adversity all his life to attain great success, achieving it is only a matter of time.
Hien truly lives by the dictum, "I will never give up until life gives me up."
A beautiful dream should come true to those who have a faith in life. All the martial art fans and Hien also has awaited some sweet-heart sponsors to support Steal Man Nguyen Quang Hien in the coming time and keep going along with him on the road to approach more records.
For further information, contact Mr Hien at (84)906838402