Durian farmers on Ngu Hiep Island in the Mekong Delta Province of Tien Giang are ecstatic as the price of the fruit has almost tripled recently.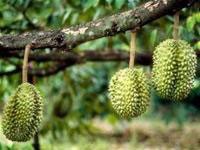 Ngu Hiep island's economy has strongly developed thanks to the community's durian growing efforts.
The fragrant produce is now fetching at VND9, 000-26,000 per kilogram.
The islet of Ngu Hiep in Cai Lay District has an area of more than 1,471 hectares with 3,459 households. Among them, 3,135 families grow durian on over 1,257 hectares with an output of about 40,000 tons of the fruit yearly.
Farmer Nguyen Van Chang from the island's Tan Son village owns a 2-hectare durian farm and said he earlier invested in fish breeding and planting longan, but saw very little profit from it. He then decided to try growing durian and after five years, he was earning large sums of around VND300-400 million (US$15,000-20,000) a year.
Le Van Loc, a farmer from Thuy Tay village, similarly earns VND400-500 million ($20,000-25,000) growing durian on a 3-hectare area. He also has plans to develop his land into an ecotourism area to draw visitors in the near future.
Senior farmer Nguyen Hoa Thuan, who has dozens of years' experience growing durian on a 5-hectare area in Ngu Hiep, said his family has lived on the island since 1970 and was one of the first to plant the fruit trees.

Thuan says many people were skeptical when he first planted 60 durian trees, but after 1975, the trees began to bear fruit and helped his family earn more profits than by growing rice. Following his success, many other families decided to try planting durian.
Ngu Hiep island's economy has continued to develop strongly over the past 10 years thanks to the community's durian-growing efforts.

"Durian has helped many families escape poverty, making the countryside more prosperous," said Deputy Chairwoman of the Ngu Hiep People's Committee Nguyen Thi Thuy.
If it were not for durian, the islet district would likely not have changed so dramatically, added Huynh Huu Loc, a Ngu Hiep official.

By applying scientific technology, the islet district has also been able to offer the produce year-round, instead of just a few months a year as before.

Local authorities are now encouraging growers to plant higher quality durian varieties including Chin Hoa, Ri6 and seedless yellow-flesh types to ensure sustainable development and larger profits, said Chairman of the Ngu Hiep Gardening Association Tran Van Nam.

The Department of Agricultural and Rural Development of Cai Lay District is also implementing improved durian farming methods under VietGap (Vietnamese Good Agricultural Practices) standards to further help farmers produce quality products.