Saving money and calling on benefactors' help to build a home and building a traditional medicine clinic to take care of the lonely and homeless elderly. This is what a monk, Thich Giac Thoi, in the Mekong Delta province of Soc Trang has achieved.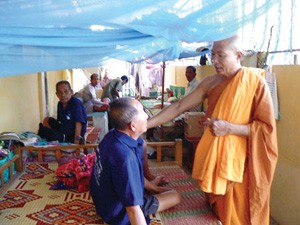 Homeless elderly are taken care of at Phuoc Lam Pagoda in Soc Trang Province (Photo: SGGP)
Twenty years ago, Thoi came to Cho Cu Hamlet, My Xuyen Town, to become an abbot at Phuoc Lam Pagoda.
The abbot made the deserted pagoda spacious and attracted many visitors.
He then set out to build a home for the elderly, which was completed in 2002 with two airy rooms for 20 old people. At present, 26 people aged from 70 to 98 are living there.
Some of them are from HCMC and the central province of Binh Thuan, they were homeless and wandered many places to beg before stopping at the house.
In 2005, Abbot Thoi found that most of the old people at the house were often ill. He decided to build a traditional medicine clinic, named Tue Tinh Duong.
Nun Dang Chieu was appointed to attend a course on oriental and western medicines and acupuncture.
Many Buddhists have also volunteered to come to the clinic to take care of, deliver medicines and carry out acupuncture for the elderly and disadvantaged ethnic minority people. The clinic treats about 50 people a day.
Chieu said that although the clinic has received assistance from Buddhists, the material infrastructure is still poor with a shortage of machines and acupuncture appliances.
The kitchen here also provides food to 70 people, including patients, monks, nuns and Buddhist laymen.
"Living in the pagoda, we are well taken care of from food to beds. Each time we are sick, we are whole heartedly cared for with enough medicines. We do not how to reciprocate this kindness," a 75 year old man said.
Abbot Thoi has not only done charity at his pagoda but also taken part in many charitable activities in the local area.
Nguyen Van Minh, head of Cho Cu said that the pagoda has helped the hamlet to build three houses and annually deliver rice to poor people in July.
Disadvantaged Khmers are also given assistance at the pagoda when they meet difficulties or fall sick.
"Doing charitable things is to follow Buddhism," Abbot Thich Giac Thoi said.