Obsessed by the sight of many ancient trees cut down lying on the floor, monk Thach Xuong thinks how to use it economically
Be attached to the land

From Tra Vinh market, going along Dien Bien Phu street about 7 km, passing the culvert Tam Phuong, you will see the Komponenigrodh pagoda. It was established in 1637 and successively presided by 22 monks. In 1977, Monk Thach Xuong came here and became the 23 rd successor.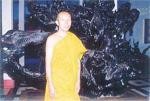 Monk Thach Xuong-who nurtures Tree's Soul
The arch gateway and the moss-covered wall make its name Hang pagoda (Cave pagoda). The most impressive sight to us is a dense forest with hundreds of trees. Besides that, thousands of birds of several kinds gather here to make their nest in the trees, singing.
The main gate looks the river. In the old times, it was called Doi pagoda (Bat pagoda) because there were many bats in the pagoda. In 1968, it was destroyed completely by a bombardment. After that, bats flew away. Instead, thousand of storks from everywhere came here to nest in trees.

As usual, it takes a hundred year to harvest a sao tree, which means its trunk is large enough for use only after a hundred years. "The timber is very valuable", the monk said, "it is so wasteful if we discard them". Therefore, a pile of its roots lumbered in the pagoda garden because he did not know how to deal with it.

The carver brings soul to the tree
The monk was so glad to invite the carver Thach Buonl from Dong Thanh commune, Binh Minh district. The first works are the peaceful natural pictures such as an eagle with cute eyes and strong wings, a pack of deer on the riverside, these nice doves…The works are more and more sophisticated. The ornamented work in the living room of the pagoda made from a root of a 400-year old tree took 8 months to finish.

All disciples were encouraged to learn carving. The ugly rough roots turn into nice works thanks to the clever carvers. Interested in carving, scores of local youths and Buddhists came to learn this job.
 
Fame is widespread; habitants and people from the surroundings, even foreigners come to the pagoda to enjoy and buy the works.
Nguyen Thanh Tam, Secretary to the Tra Vinh district's youth union, proudly said that the carving shop has created jobs for the young residents. The monk is honored to be one of the provincial delegates.

When talking to us, the monk showed us his invaluable assets- nearly one thousand 8 years -old "Sao" trees. He planted them for the next generation