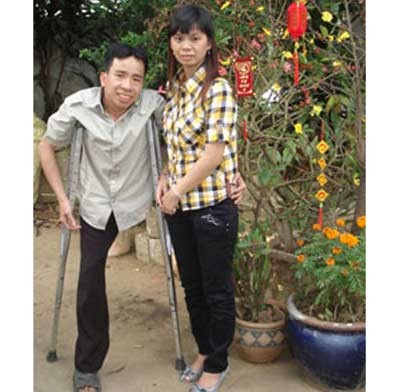 Nguyen Duc and his wife
The wife of Nguyen Duc, possibly Vietnam's most well-known Agent Orange victim and one half of a pair of conjoined twins successfully separated by doctors at Viet Duc Hospital 19 years ago, is pregnant with their first child.
Thanh Tuyen, four months into her pregnancy, is carrying twins, and is under the care of doctors at Tu Du Obstetrics Hospital in Ho Chi Minh City where her husband works.
They were married in 2006. Mr. Duc and his twin Viet were born in 1982 at SaThay, in highlands province of Kontum, a place badly affected by Agent Orange, the defoliant US troops used during the war.
Viet, who was in a vegetative state for several years, passed away in 2007.
After surviving the most publicized operation in Viet Nam, Duc has struggled hard to overcome difficulties and rejoin the community as a normal person.